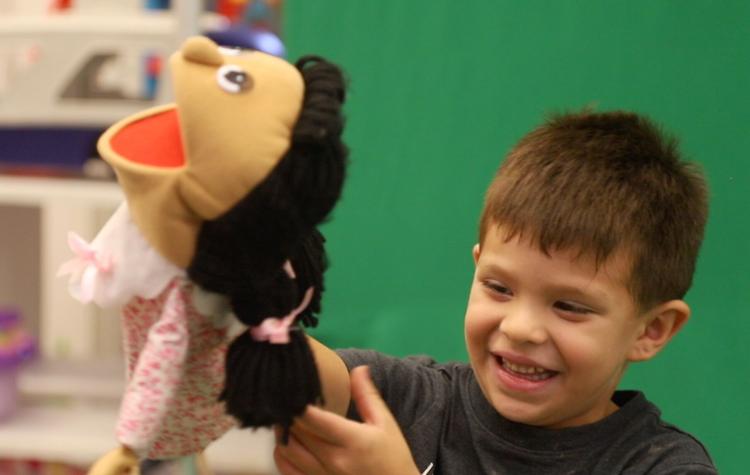 EL CENTRO — First person rollercoaster views, music videos, extreme animals, and crawling dad/man-bears marked the first day of Calvary Chapel Church's Vacation Bible School.
The local church's virtual IncrediWorld Amazement Park Vacation Bible Study (VBS) videos began airing free on YouTube and their church website Sunday, July 26, and will continue throughout the week, said VBS Coordinator Sarah Hunt.
The vivid colors, interesting graphics, Christian music videos — complete with puppets — and bible teachings and online theatrical drama portions all came together with this first installment of the first virtual format VBS, Hunt said.
"A VBS is usually kind of like a camp where kids come and they learn about God and do crafts and play games and sing songs," Hunt said.
Hunt said though the "theme park" theme was part of a pre-existing curriculum, the church hasn't used it in about eight years, it has been revamped to be new and fresh for today's children, and might just help to get their minds off of video games or summer boredom, VBS team member Melody Chronister added.
"A lot of our kids locally don't have opportunities to go to camp, so usually there is a lot of bible schools local churches hold," Hunt said, "but that's not the case this year because people cannot meet in person for things like that with the pandemic. The only other option is a virtual vacation bible school."
In the first installment, about 10 videos were put together by over 20 people, including six bible teachers, four snack persons, two game masters, one arts and craftswoman, and one puppeteer.
About 200 VBS home kits — including snacks and items for arts and crafts — were made for local families who registered to partake in the event.
"It's definitely been a learning experience — I can speak for myself — I've learned a lot…probably all of us have," Hunt said, "but it's something that the kids look forward to every year so it'd be kind of sad not to have one this year even though we can't meet in-person."
Hunt said the church puts on VBS because they believe "as a Christian, we're always called to point people to Jesus. Just because we're in a pandemic doesn't mean we stop doing that."
"So, this is helpful in giving them games and activities to do inside the house and things other than just whatever they are doing," Chronister said. "We make it fun too."
The first VBS lessons focused on the creation story in the Bible's books of Genesis and some select parts of Exodus in "Creation Day: Back to the Beginning."
Calvary Chapel's IncrediWorld Amazement Park Vacation Bible Study will continue on the church's website at calvaryelcentro.com
The free VBS Kid Kits can be picked up at Calvary Chapel, located at 1923 Austin Road in El Centro, or materials lists can be printed from calvaryelcentro.com/vbs#supplies and used from home.