CALEXICO — The Camarena Memorial Library in Calexico has transitioned from in-person to online services throughout the summer, and they are still rolling out new programs online for National Library Card Sign-Up Month in September, said Library Manager Lizeth Legaspi.
"It's a national effort from public libraries from the American Library Association to try and entice or encourage people to get a library card," Legaspi said.
"A library card is always addressed as the smartest card of all because it gives you access to free resources, and all the resources at the library are very much needed and very helpful for students as they're going to school, and for adults to continue life-long learning," she said. "It gives you access to not only books but electronic resources that the library has to offer."
Legaspi said the transition from in-person to online has been "bittersweet because obviously we would love to have people in here joining our programs but at the same time, sometimes it's a little bit easier for people to join the programs."
She said going online has enabled people from Calexico and all over the Imperial Valley, Mexicali, and participants from as far south as Mexico City and as far east as the State of Virginia.
Various library programs are readily available to most, including the ZipBooks program for all Imperial Valley residents. Through ZipBooks, Valley residents with a public library card can request books through their library to be mailed to them for their enjoyment with the exceptions being fiction best sellers and textbooks, Legaspi said.
At Camarena Library in Calexico, the checkout period has been extended from 28 days to 60 days in order to make it easier for people to avoid late fees when returning books, Legaspi said.
Other programs, which are now being shared online like Storytime and Crafty Tuesday, are open to anyone with a library card in good standing who wants to tune in online.
Storytime — which is a program geared toward pre-school aged children where up to three storybooks are read to those in attendance — is the most popular of the Camarena Library programs. About 15 to 25 children tune in to Storytime with the help of parents, Legaspi said.
The related Babytime program, which is geared to children younger than 5-years-old, also has great attendance, Legaspi said, as some of the same viewers sometimes attend both sessions even when on vacation outside of the Valley.
"I had a family that was staying in San Diego for a couple of days and didn't want to miss Storytime," Legaspi said. "Those little things are so rewarding, and it just gives us more — like vitamins — to continue going because they appreciate what we are doing."
Camarena Library held its first Crafty Tuesdays online Tuesday, September 1. Legaspi said she was pleased with an attendance of 15 in their first online session.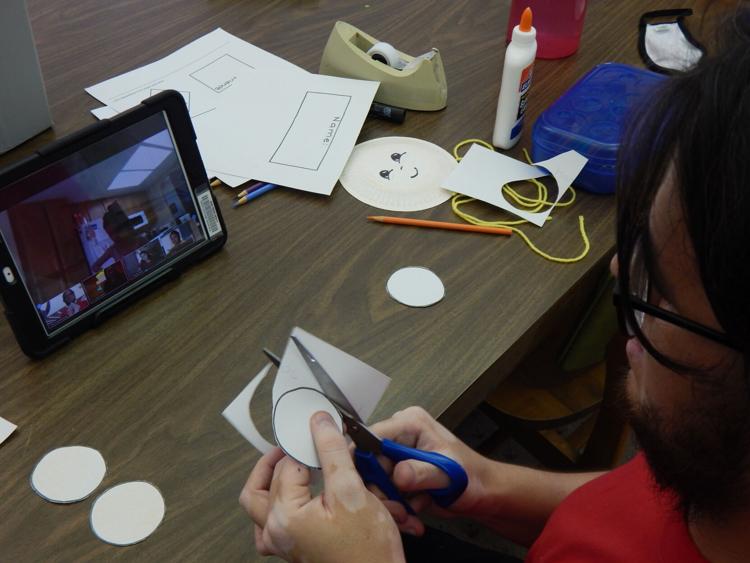 Though Storytime has been offered since April, Legaspi said she is excited to see how the new online version of Storytime pans out as the library will also be combining reading and singing in Storytime with arts and crafts activities.
"We encourage and hope people make use of the free resources all public libraries offer," Legaspi said. "All libraries in the Valley are promoting their services and are trying to serve the public so we encourage people to call us or email us to get a library card."
To get a free library card from the Camarena Memorial Library and enjoy these and other online services such as streaming movies free through Hoopla, call 760-768-2170 or send an email to library@calexico.ca.gov
To see their September events including the upcoming Mexican Independence Day online event, visit the Camarena Memorial Library Facebook page at facebook.com/camarena.memorial/