BRAWLEY — Children, parents, and grandparents lined up on both sides of Main Street to anticipate their favorite participants of the 2021 Brawley Cattle Call Parade. There was no parade in 2020 due to the pandemic. 
There were more than 100 entries and four of them received parade awards this year. 
Imperial Valley Challenger Little League received the Mayor's Trophy Award; Too Cute Kitten Rescue, Queen's Trophy Winner; Imperial Heights Healthcare & Wellness Center, Western Spirit Trophy Winner; and Best STEP Forward, Sweepstakes Trophy Winner.   
"My mother used to bring us to the parade," said Jessika Balderas. After several seconds she said, "For about 25 years." 
They had three umbrellas to protect them from the sun's rays. "We forgot to bring our sombreros," said Balderas. A vendor plying Main Street during the parade sold them three pink umbrellas with designs reminiscent of a region in Asia.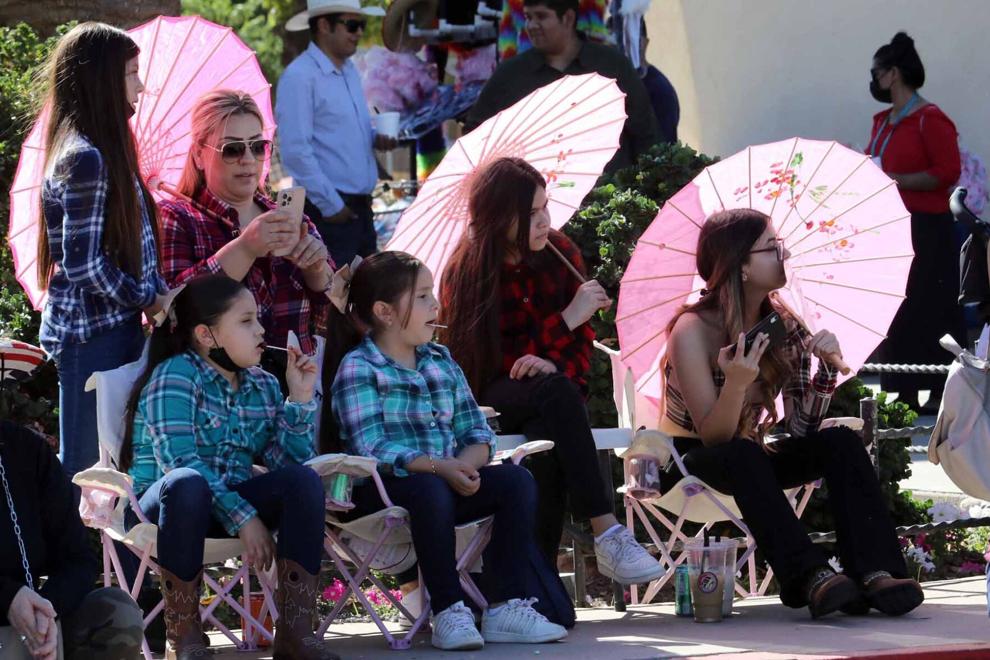 Her children Ailyn, 14; Joselyn, 10; Jacquelyn, 7; Kailyn, 6; and her niece, Ashly, 10, sat on folding chairs and on the street curb to watch the parade. 
"I like watching the Brawley Union High School band," said Ailyn, who helped her younger sisters spell their names for The Desert Review while their mother observed. 
Maria Dominguez brought her grandchildren to the parade. "And I've been coming for the last 15 years. My grandchildren are happy to be with me." 
Dominguez brought along Lupita Castillo and her daughters, Izabella, 8, and Kailey, 7. The cousins played with potato guns as they watched the parade passing by. 
"I liked watching the Brawley band," said Izabella, referring to the Brawley Union High School band. The high school won the Bell Game trophy against Central Union High School this year. For many years, the two high school football adversaries have competed for the coveted prize. 
Parade entries included the Brawley Cattle Call Queen Royalty Association, elementary schools, high schools, dance groups, farmers, farm tractors, car clubs, a beef processing plant, law enforcement agencies, firefighters, and healthcare organizations. 
The parade ended before noontime. Michael Lugo and his friend went to Los Cabos Seafood restaurant to try their seafood menu. 
"We came here to have some shrimp and some seafood," said Lugo. He said the parade this year was good because the parade provided him opportunities to meet friends from high school. "It's fun to have a reunion." 
The aroma of food attracted other customers to several street food vendors near the city's library. There was a long line of customers waiting to order lunches and drinks. 
Other parade fans proceeded to the Cattle Call Arena where they purchased lunch from several food vendors. This gave them sufficient time to get to their seats in the arena for the Cattle Call Rodeo at 2 p.m.