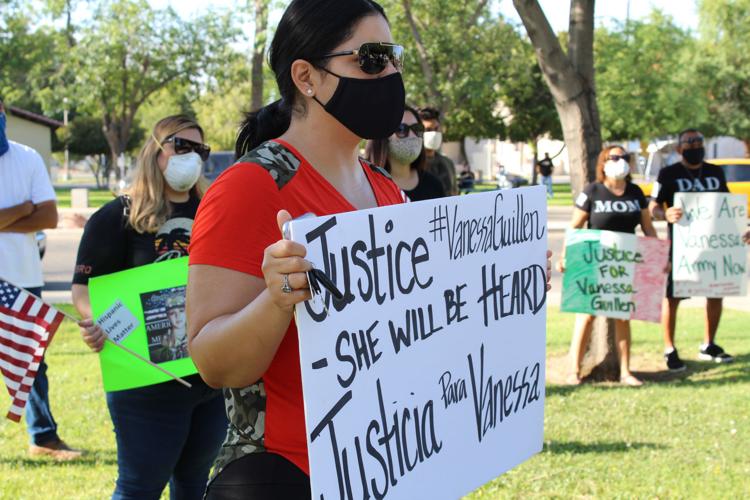 BRAWLEY — Imperial Valley residents added their voices to the cry for justice gathered in front of the Brawley Veterans Memorial Saturday, July 11, in support of United States Army Specialist Vanessa Guillen who was recently found dead near Fort Hood in Texas.
Vanessa Guillen, 20, disappeared from Fort Hood and was last seen on April 22. Guillén was missing for two months until dismembered pieces of remains were found buried along the Leon River, June 30. On July 5, the pieces were confirmed to be Guillen's. Guillen spoke about being harassed, possibly sexually harassed, by one of her fellow soldiers shortly before she went missing in April.
Army Veteran and Brawley resident, Martin Islas, knew he had to do something for Guillen. Islas remembered seeing women in the army dealing with harassment like Guillen and is saddened by how bad it has continued to be for women in the military.
"When I heard about what happened to her, it really made me angry and real upset, so I knew we had to do something," said Islas. "We need to build a movement and have that culture change in the military. Somebody needs to do something."
A large crowd gathered at the rally, holding signs calling for justice for Guillen and that Hispanic lives matter. Civilians, military, and Veterans together added their voices to a cry for justice around the US
As a mother of a girl who could one day have to deal with similar issues, Maribel Gutierrez came in holding a sign, standing for Guillen.
"It hurts too much to realize what her mother is going through and the trust, all of the hope she had for her daughter, and how she entrusted this Country with the precious life of her daughter," said Gutierrez. "I stand for her mom and I stand for Vanessa Guillen — she deserves justice."
Ernesto Mariscal spoke and called for everyone to stand united for Guillen and to not be divided.
"This great cause is to seek justice for Vanessa, for anyone who has been wronged," said Mariscal. "As much as we are different, we need to come together to make that change, be that change."
Dianna Morales called upon the staff at Fort Hood to be held accountable and shouted that justice needs to be served for Guillen, calling on all who were standing at the rally to put aside differences to make it happen.
"We have to stand united, put all our differences aside, and all stand up and demand justice for Vanessa," said Morales to the gathered group. "We are her voice from the Imperial Valley."
Ramon Castro called for the military personnel at Fort Hood to be held accountable, because soldiers should not be dying by their brothers' and sisters' hands on American soil. Castro put his and the crowd's feelings into a quote that was echoed by the rest of the speakers.
"If someone goes missing, they shouldn't be reported AWOL, they should be found immediately. There shouldn't be a delay, there shouldn't be an upset mother calling the media just to bring attention to this case," said Castro. "They let Vanessa down, they let all those men and women down!"
Castro said, despite his love for service to country and with the current environment in the US Military, he's unsure whether he would allow one of his own daughters to join the military.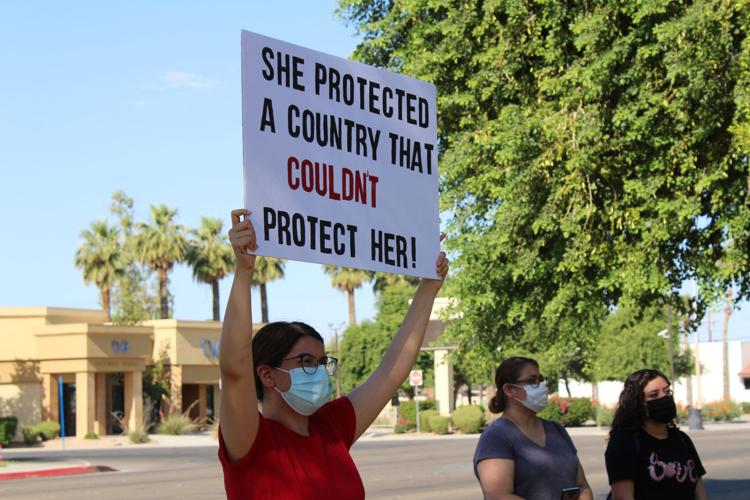 Islas said he hopes to hold another rally later on in the month to keep the message moving.
HOLD THE US Army MILITARY in FT. Hood ACCOUNTABLE: Justice for Vanessa Guillen - Sign the Petition! https://t.co/8wmxsEOnIh via @Change

— ⚔️ 🤴🏾 Warden Of The North 🤴🏾⚔️ (@RealRappEarls) July 13, 2020
HOLD THE US Army MILITARY in FT. Hood ACCOUNTABLE: Justice for Vanessa Guillen - Sign the Petition https://t.co/UVVA6EursG via @Change

— evie ✿ (@sapphicearth) July 13, 2020
rough week as a survivor. listening to the women in my community share their stories of sexual assault in the military. hearing Vanessa Guillen & LaVena Johnson's tragic stories. I don't want to talk abt it but just like pls be easy on survivors in your life, we going thru it atm

— ☻ ed boy ☻ (@TimTimClub) July 13, 2020
Organizers say the event was held to honor service members who have experienced sexual assault or harassment. Guillen's family says they believe she was sexually harassed by the suspect in her murder and is calling for a congressional investigation. https://t.co/jFrbXWTYLE

— WLOS (@WLOS_13) July 13, 2020
HOLD THE US Army MILITARY in FT. Hood ACCOUNTABLE: Justice for Vanessa Guillen - Sign the Petition! https://t.co/5kUjWNgDlH via @Change

— Judi Nwonye (@jujab33) July 13, 2020
In case some of y'all forget. ... Black Lives Still Matter. Vanessa Guillén still needs justice, and Breonna Taylor's killers still need to be arrested. Keep up the fight. ✊🏽

— Carmen Vargas (@vargascarmen23) July 13, 2020
Today's @LatinaToLatina episode features two Latina veterans speaking about their military sexual trauma, and their work to get justice for #VanessaGuillen and her family. #LatinaToLatina #IamVanessaGuillen #MeTooMilitaryEpisode Link: https://t.co/gXIvQH0tC2

— Griselle (@FancyBoricua) July 13, 2020
To Honor Vanessa Guillén, These Two Latina Veterans Are Telling Women Not To Enlist | Latina to Latina #RequiredListening 👇🏽 https://t.co/eh02FKUJZB

— Tamarindo Podcast (@TamarindoCast) July 13, 2020