BRAWLEY – Hidden among facilities owned by the city of Brawley's and Brawley Union High School District (BUHSD) lies a previously abandoned Army National Guard Armory. However, Assemblymember Eduardo Garcia and Senator Ben Hueso announced BUHSD's acquisition of the armory building Friday, Nov. 19.
BUHSD Superintendent Simon Canalez explained that the exact purpose for the property and building has not yet been decided, but it will eventually host community activities, social events, and athletic contests.
BUHSD Board President, Gabriel Contreras, said, "The main idea was to acquire the property first and then figure out what we could do with it later. We've got some big ideas for this property, so we'll be looking forward to getting those done."
Canalez and Contreras said although the official use for the property has not been decided yet, a big reveal will occur once BUHSD decides and the project construction is completed.
The Brawley Armory is a 1.8-acre site located at 650 North Second Street in the city of Brawley. Surrounded by facilities that are currently used for alternative education programs, athletic activities, and community events, acquisition of the armory has been BUHSD's desire for several years. The site has been vacant and faces numerous maintenance challenges, according to a press release.
BUHSD reached out to Hueso and Garcia for support in purchasing the property from the state at a lower price than its appraised value.
Assemblymember Garcia said, "There's a story here to be told and I want to just give you a little glimpse of what that story looks like."
In 2017, Garcia said a Brawley city councilmember called to complain about the nuisance and the state's lack of oversight and attention pertaining to the vacant building. The councilmember offered to buy the building for a single dollar. Garcia said an offer for $1 was submitted, and of course, rejected. But the effort did not leave them empty handed. Conversations regarding the purchase of the property were then opened.
The facility's appraisal came back at $600,000.
"I think we all kind of choked when they said that's what this facility was worth," Garcia said.
He said, in 2020, Senator Hueso stepped in and offered a different approach. Hueso successfully moved the conversation along with the Senate regarding setting some money aside in the budget for the BUHSD to purchase the property.
There were some additional struggles to purchase the facility, but eventually, efforts paid off.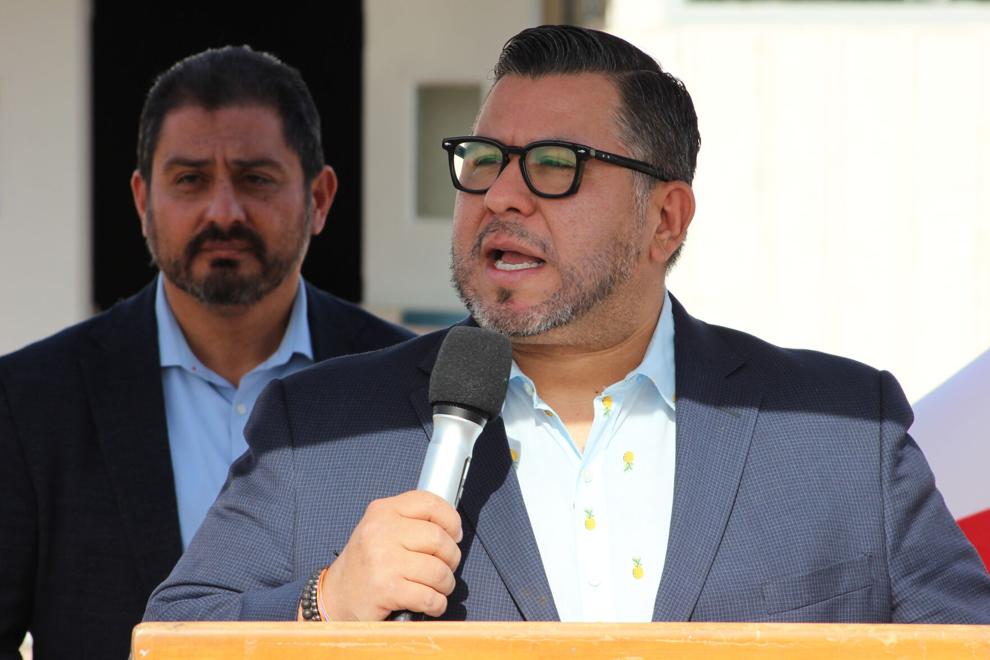 "After many years of persistent, collaborative efforts, this purchase will allow us to address critical public safety concerns while expanding opportunities for educational programs and community activities," said Garcia. "We are proud partners of Brawley Union High School District and were happy to answer their call for aid navigating through this arduous process and finally breaking through the barriers for locals acquiring and putting this property to good use."
"This is a big day for our community, especially our students," said Hueso. "We have been working for many years to support Brawley Union High School District in their ongoing efforts to expand their services and programming and are thrilled to finally be celebrating this long-sought-after acquisition."