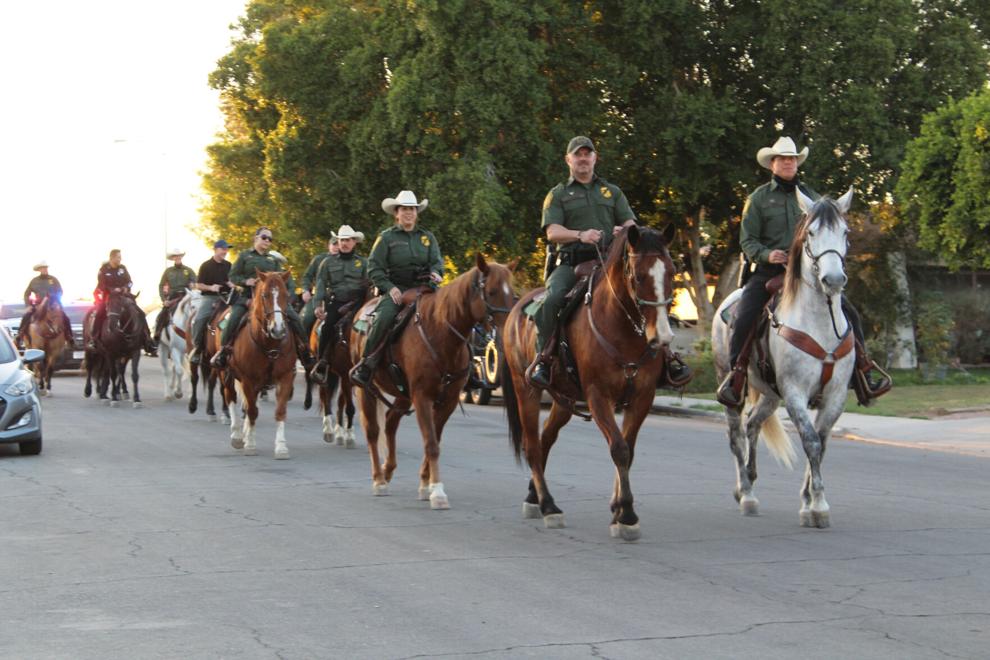 BRAWLEY — Brawley residents might have heard an odd clopping sound on the streets Wednesday, February 10, as the El Centro Border Patrol sector made a surprise ride through residential neighborhoods for the Horsing Around with an Agent initiative.
Brawley resident Gilbert Zazueta said his daughters saw the horses coming down the street and hurried to get his youngest daughter from inside the house so she could see them too. Zazueta said it was a random surprise, but he appreciated what they did.
"It's pretty cool, I appreciate them coming through. It's a sign of them saying 'Here we are guys, we've got your back,'" said Zazueta.
El Centro Division Chief Carmen Gandara said the spontaneous ride was inspired by the events after the Black Lives Matter protest in El Centro. Back in June, Gandara said the division participated at the protest to show support and law enforcement in a positive light. When the event was over, they decided to ride back to the sector on their horses through El Centro's neighborhoods.
As they rode through the streets, residents went out to see the horses and their riders. Gandara recalled seeing excited faces and people going up to thank the Border Patrol for their work and she thought, "We would love to do this again!"
"The message is to show we are here, to reach out to the community," said Gandara.
The sector wanted to do that again, but this time in Brawley. The Border Patrol Horse Unit met up at Barbara Worth Junior High School with Brawley Mayor Luke Hamby and Brawley Police Chief Jimmy Duran before riding off into town. There were no posters, social media buzz, or public announcements in order to keep crowds from gathering.
"I thought it was a great idea, especially since missing the Cattle Call Parade," said Hamby. "Kids love to see the horses so (we) thought it would be a good outreach opportunity."
Residents stepped out to see the unit ride by, waving at the Border Patrol, mayor, and police chief. The unit stopped at some corners and gave children a chance to see the horses up close while talking with parents.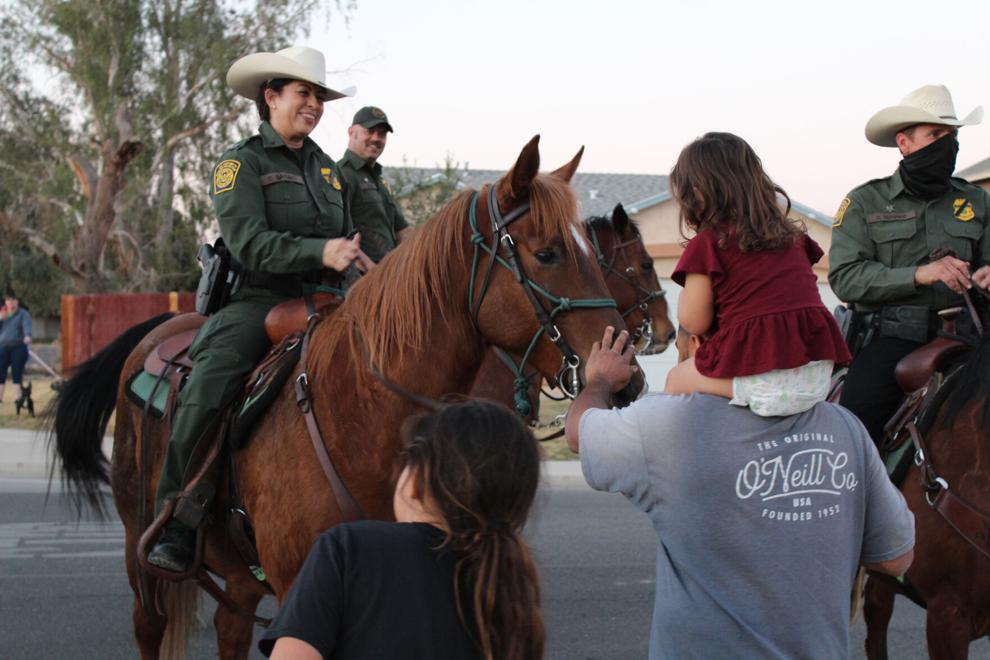 Agents allowed some families to stop by before the ride to see the horses, giving children a chance to see the horses up close and do some community engagement before moving. Usually, the unit is able to do community engagement through parades such as the Cattle Call, school visits, and more, according to Chief Patrol Agent Greg Bovino. However, due COVID, there hasn't been a chance to do their usual community engagement.
"It was sort of by accident and the response was overwhelming," said Bovino. "This gives us a chance to ride in a COVID-safe environment."
The Border Patrol horse unit is an operational unit that patrols all 70 miles of the southern border, particularly areas that are controlled by the Bureau of Land Management in wilderness areas such as the Jacumba Mountains. Bovino said the horses are more environmentally friendly and are in general very good at what they do.