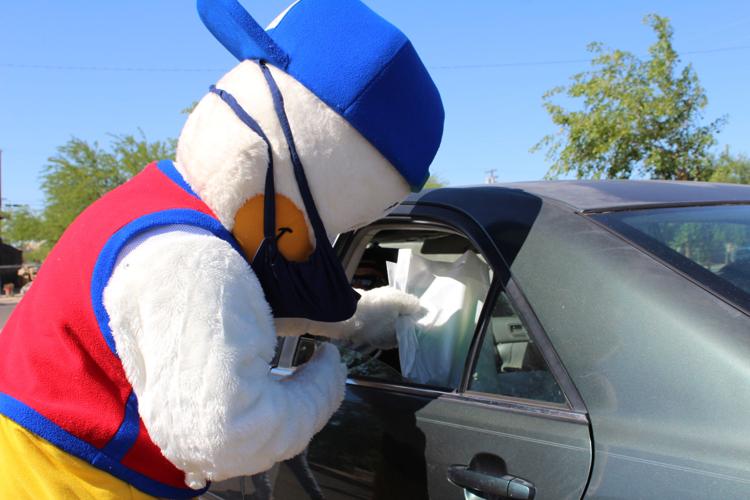 EL CENTRO — International Water Safety Day is typically spent swimming in the public pools, taking swim lessons, and other safety activities. However due to the current health situation, that was not possible this year. 
Not to be dismayed, El Centro Aquatics Center Supervisor Rebecca Corfman and staff put together a drive-thru event for the families of the Imperial Valley community Friday, May 15, with goody bags filled with water safety tips and activities.
The bags included water safety education packets from the Red Cross program called "Whale Tails," coloring sheets, tattoo stickers, and more. The first 40 families in the line also received a free day pass for the Aquatics Center when it reopens.
There was also a sheet for the Aquatics Center life jacket design contest as well as information on the importance of life jackets. There will be a boy and girl winner from each age group. The winners will receive a two-day pass for the Aquatics Center when it reopens.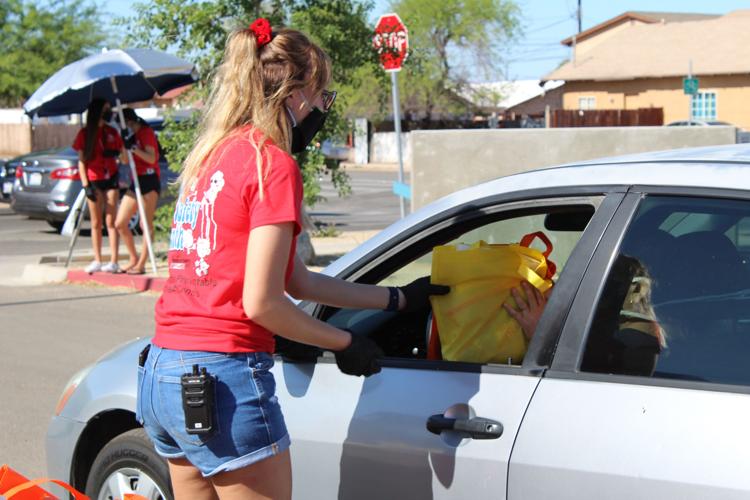 Most of the faces were familiar to the staff giving handouts. Staff waved at children in the back seats of cars, calling some by name with smiles in their eyes. The staff was happy to see the children they normally would have been teaching swim lessons by now and though they were sad, it was nice, according to staff members. 
Dippy Duck also made an appearance to greet children in the cars and hand out packets. Susie Carrillo with Communications and Public Affairs for the Imperial Irrigation District said they wanted to be present so the children remember Dippy stands for water safety, even though they were not able to see him this school year.
Corfman stated there are plenty of online resources for learning about water safety such as the National Drowning Prevention Alliance or online tips to teach children how to swim. Corfman said even with the pandemic there have already been 25 media reported drownings.
"With the stay at home order, people are starting to swim in their own pools and yes it's fun, but we also have to realize that drowning is the number one accidental death of children ages one to four," said Corfman.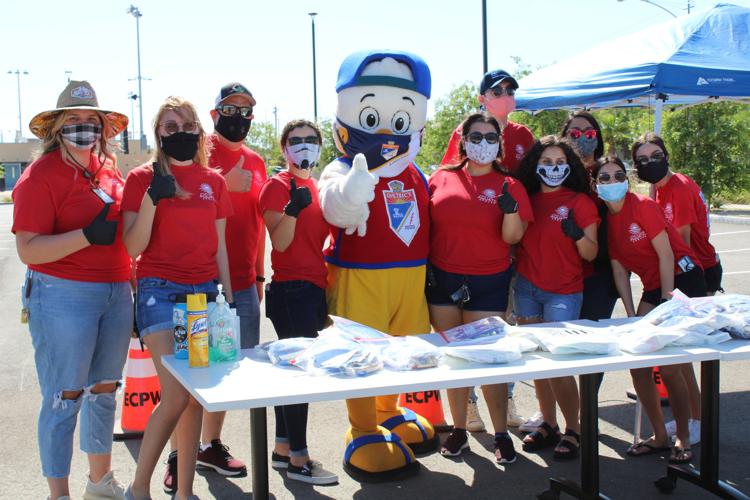 Corfman said the younger a child is, the better to introduce them to the water and prevent accidents. The Aquatics Center begins teaching children as young as six months how to swim and be safe in the water.
Corfman said the community needs to keep in mind the ABCs of water safety while at home: A, for adult supervision, B for barriers, and C for swim classes. Whether they are in a large pool or kiddie pool, children need to be watched.
"Drowning happens within seconds and is silent. It doesn't happen like it does in the movies," said Corfman. "It only takes one or two feet for a child to drown."
Corfman said the El Centro Aquatics Center will open in the future when the City gives them the green light.