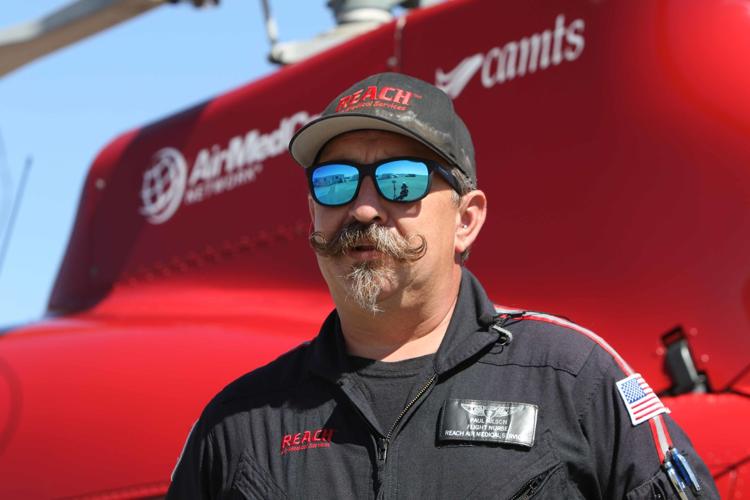 BRAWLEY — Flight nurse Paul Nilson started his day with a 21-mile drive to the REACH Air Medical Services base in Brawley from Holtville, a small farming community south of Brawley.
"It is the best job. It is exciting and rewarding," said Nilson, who smiled behind the handlebar mustache he has sported for the past 18 years. 
According to Nilson, "A flight nurse provides a high level of medical care. I always have a partner and we take care of one patient at a time." His 24-hour shift started at 8 a.m.
Nilson claimed his career came by accident. He initially applied as a park ranger but ended up as an EMS ranger with the Bureau of Land Management. While working at Glamis sand dunes, he saw firsthand helicopter medical response. The sight of the helicopter above the desert intrigued Nilson and he pursued a degree in nursing, graduating in 2011. 
"I'm now three-and-a-half years with REACH," said Nilson, a Holtville native. According to him, each flight crew is composed of a pilot, a nurse, and a paramedic. At other times, there could be two nurses. 
Richard Estes, with 23 years of experience as a professional pilot, flies the medical crew and patient to the medical facility destination and back to base in Brawley.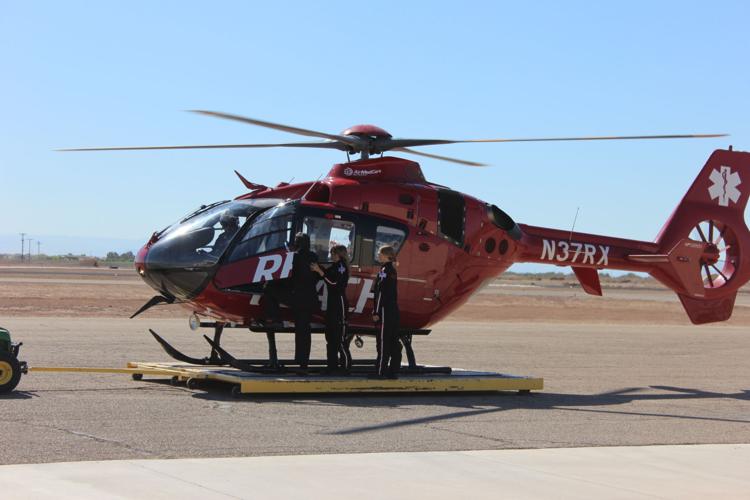 Each crew member follows a routine during the course of their 24-hour shift. And for this reason, the team stays at the REACH Air Medical Services base in Brawley, adjacent to the Brawley Municipal Airport and Brawley Fire Department Station 2. Each crew member has a bunk bed and locker to store their personal belongings. They bring their own food and snacks. 
Sergio Cardenas, REACH program director for air operations in Imperial County, said the flight crew has preflight routines and checks. Using cloth rags, they clean the exterior of the helicopter aircraft, check rotors, oil levels, GPS, doors, and antennas. They also ensure the ventilators, infusion pumps, and other medical equipment are fully charged. 
According to Cardenas, before the lockdown due to COVID-19, the flight crew transported one or two patients within a 24-hour period. That changed during the lockdown. Now, they have been transporting between three and five patients daily from Imperial County to Riverside, San Diego, San Bernardino, Orange County, and even as far as Santa Barbara. 
Flight nurse Nilson said additional time was added to sanitize and clean their medical equipment and the aircraft. 
"As part of the medical crew team, I'll do everything in my power to not spread infection from our patient to anyone else. I don't want to get it myself or take it to my family," said Nilson. 
Nilson was joined by Thomas Henson, a flight paramedic who joined REACH Air Medical Services two years ago and has been a paramedic for five years. 
"The paramedics share responsibilities with the flight nurse," said Henson, a polyglot who speaks Portuguese, Spanish, English, and French. "We adhere to the same protocol." 
Flight nurse Megan Berryman got off from her 24-hour shift and explained her role. 
In addition to her responsibilities as a flight nurse, Berryman helps with training to ensure that each team knows their job responsibilities. According to her, this provides a safer, better, and quicker service to the community. She also trains staff members from the Bureau of Land Management. She teaches them about landing zones, especially in Ocotillo and Glamis sand dunes. Ocotillo is mountainous with rocky terrain. Glamis is a barren desert area. 
Confident that their medical gear bags were fully stocked, medical equipment inside the helicopter aircraft was charged: the helicopter aircraft was inspected and ready for flight. Back inside their office quarters, monthly assignments were discussed including air procedure drills. 
Once that was completed, the REACH Air Medical Services flight crew relaxed and waited for the call to fly, pickup their patient, and transfer the patient to the medical facility where they will receive the necessary medical care.