IMPERIAL — The streets of downtown Imperial were packed with family, friends, and loyal supporters to welcome home one of their own.
Newly crowned IBF, IBO, WBO, WBA heavyweight champion Andy Ruiz Jr. returned to the Valley in a celebratory parade and rally commemorating his career and achievements.
"I really appreciate everybody who's out here today," said Ruiz. "We finally brought the belts back home. I've been wanting to do this for a long time, and now that we've done it, we got it, baby!"
Ruiz, along with his family and training camp, were paraded through the streets of Imperial, overflowing at times to catch a glimpse at the new heavyweight champ.
People from all over the Valley congregated to Imperial to be part of this once in a lifetime occasion.
"We're just so proud of you Andy," said Reyna Gutierrez of Calexico. "I just wanted to come out here and show some love for everything he's done to represent the Valley."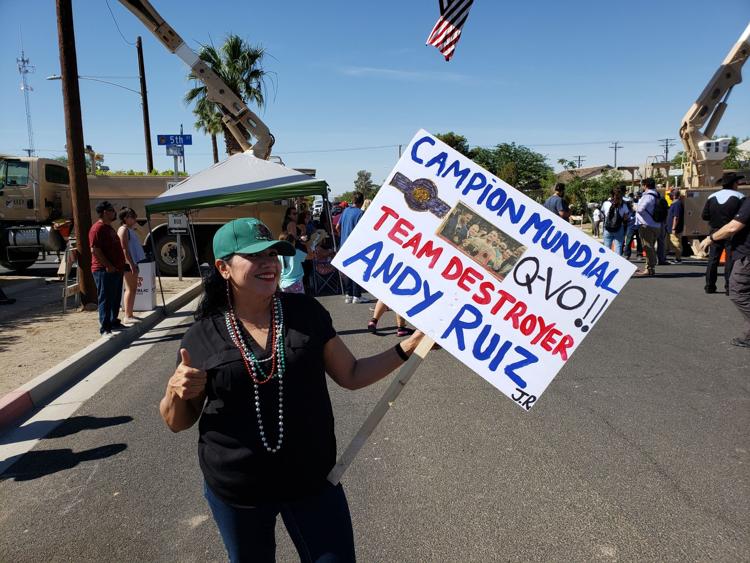 Others traveled great distances to be a part of the festivities; one family traveled from Mexico City to see the heavyweight champ in person.
"I came down here to represent the Valley," said David Mendoza of Temecula. Mendoza, a former Brawley resident, said it's very important to come back to support the success of anyone who makes it from the Valley.
"When you see a tight-knit community like here in the Valley, it's important to come and show your support and show the pride that you have being from or representing the Valley," said Mendoza.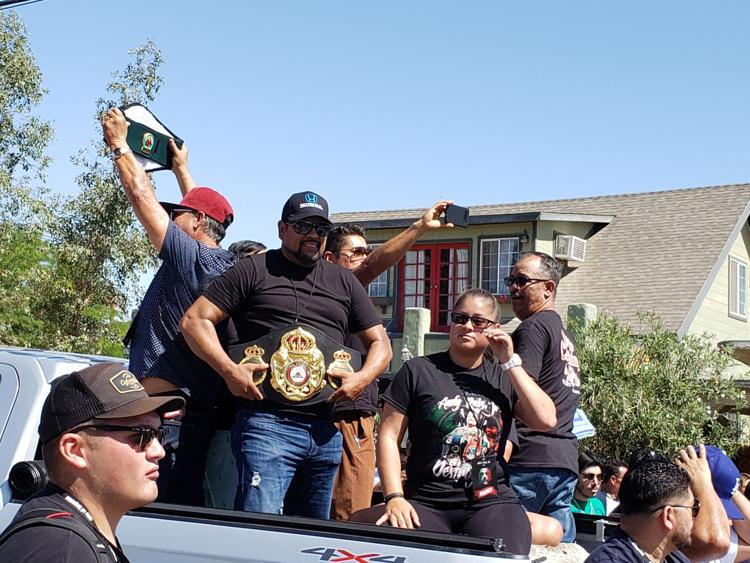 The parade itself encapsulated Ruiz's career and the journey he took en route to becoming champion. Imperial High School cheer squad led the way, followed by the Central Union High School marching band and floats by Sparta Boxing, Calexico Boxing, El Centro PAL, and La Familia Boxing Club; the gyms where Ruiz trained during his childhood.
Ruiz had a message for the kids at those gyms today: no matter what obstacles they face, anything can be accomplished.
"All the kids that have big dreams out there, dream big," said Ruiz during his rally. "All the kids that want to be like me, or even better, just do it. Train hard, listen to your coaches, stay disciplined and always pray to God for help."
The parade concluded with a celebration rally on the campus of Imperial High. Ruiz was greeted by many dignitaries throughout the Valley who reveled in Ruiz's accomplishments.
"Andy is coming back and he's sharing his roots," said Darrell Pechtl, Mayor Pro-Tem of the city of Imperial, and who also served as the emcee for the rally. "He's reminding people that this is where he's from and he's an inspiration to all the young people out here, and that excites us to come out and celebrate with him."
Among the many accolades Ruiz received was a half Mexico/half U.S. wooden flag from the Imperial Fire department, symbolizing his dual heritage, a proclamation of distinction from IID, and a proclamation signed by representatives across the Valley declaring Andy Ruiz Day throughout the Imperial Valley.
But one award seemed to have special meaning in Ruiz's heart; a key to the city of Imperial presented by Mayor Robert Amparano.
"This is going right up there with all my belts," said Ruiz. "It's a blessing to become the first Mexican heavyweight champion of the world. I've been on so many rollercoasters in my life. So many people telling me … 'you're never going to accomplish anything.' But I trained hard my entire life, and with the help of my family, my coaches and everyone who's ever supported me, I brought a champion back to the Imperial Valley."