BRAWLEY – The Radiology Department at Pioneers Memorial Healthcare District held its third annual Breast Cancer Awareness event Thursday morning, October 4 highlighting the theme of Rosie the Riveter. The iconic Rosie the Riveter was the star of a campaign aimed at recruiting female workers for defense industries during World War II. The PMH women mimicked Rosie by wearing coveralls with bandanas tying back their locks.
PMH Radiology opened the informational meeting to the public and arranged presentations, music, a meet and greet with staff, and giveaways, as October is National Breast Cancer Awareness Month.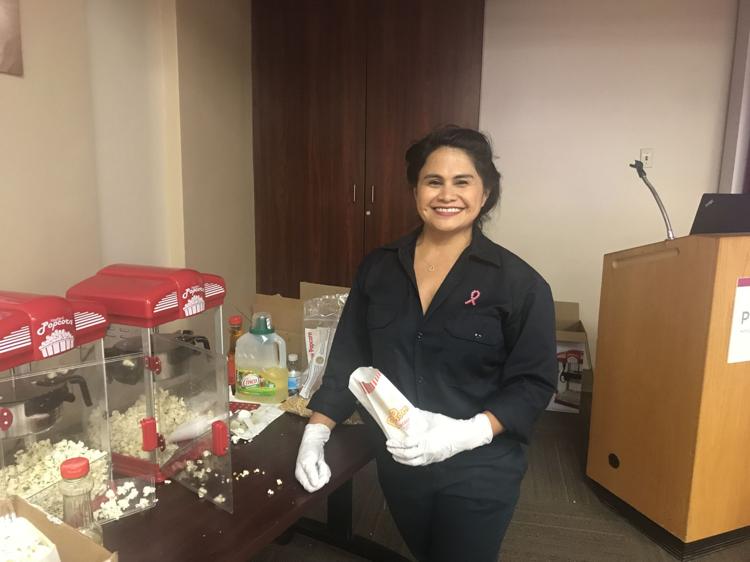 Patty Enders of the PMH radiology department spearheaded the annual campaign and said the goal was to empower and educate local women on their health care options and stressed the importance of early detection when it comes to breast cancer. 
Booths lined the walls as complementary businesses and organizations showcased what they had to offer women and support groups. 
One booth offered Genius 3D mammogram appointments, one of PMHD's latest acquisition in radiology. As the name implies, the new machine offers 3D imagery on breast mammograms, allowing for a more complete examination for the earliest detection of cancer cells.
Loren Beck, the Genius 3D representative, said the machine could take 15 angles of photos simultaneously, while the older generation of mammograms could only take two, thus being only two dimensional.
 "The new 3D exam finds 20 to 65 percent more invasive breast cancers compared to 2D alone," said Beck.  "Additionally, the exam requires no additional compression and takes just a few seconds longer than a conventional 2D breast cancer screening exam."
The four hour event had 150 visitors, according to Enders.
"We had 150 free bags and they are all gone, so we had at least that many pass through our doors," Enders said.