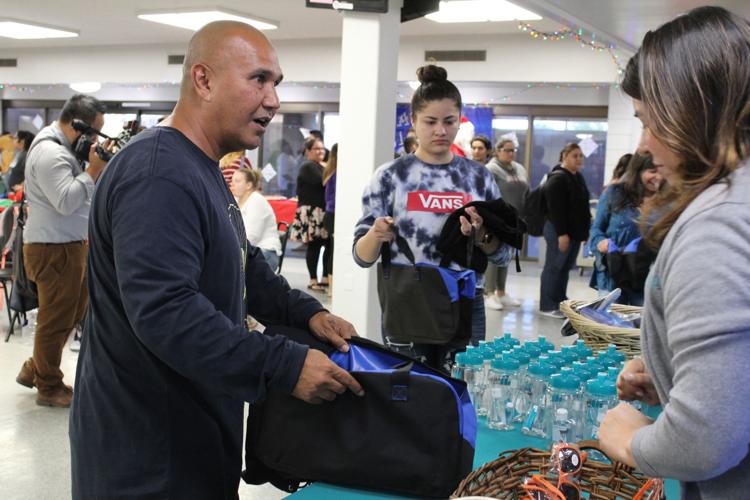 IMPERIAL - It can be difficult for some individuals to find the comfort of family or security during the holiday and winter season, so Molina Healthcare helped students at Imperial Valley College with the distribution of special gift bundles to EOPS students December 4.
One hundred EOPS, or Extended Opportunities Program and Services, students were given a gift bag of presents designed for the cold weather. The items included a fleece blanket, a sweater, a pair of socks, toothpaste, hand sanitizer, water bottles, and a duffle bag to hold it all. 
Students were also treated to a warm meal provided by the IVC cafeteria. The big man in red even made an appearance for photos and just to spread holiday cheer.
Gabriela Urena is an EOPS student who said she owes a lot to the program. She will be alone this Christmas, but she will be spending it with staff of the EOPS office she has come to know and lean on for support. Urena said this event really brought all of the EOPS students together for the day.
"We're all together as one, and that's how Christmas is supposed to be," said Urena.
Jessie Garcia works with IVC Student Affairs and is part of a group of former incarceration students. When he heard Molina was having a giveaway, he said he was ecstatic.
"These are genuine people who care about us," said Garcia. "It's great to know people care about you and want you to be a productive member of society."
Students who received the gifts from Molina on Tuesday were picked out by the IVC EOPS program. There are 15,000 students each academic year in the program, according to Director Olga Argetechi, with 114 that are a special population in homeless situations.
EOPS helps these students with tutoring, individual counseling, setting academic goals, financial aid, book funds, bus tickets, and overall help in achieving academic success at the college.
Argetechi said the program tries to build community connections that will help ensure student success in the program.
"It's really nice to have an agency approach us and say 'We want to help!,'" said Argetechi. "This is a nice Christmas event for us and for the students."
Alexis Ayala, a student success specialist with EOPS, added these events help keep students engaged and give them a sense of community, especially during the holiday season.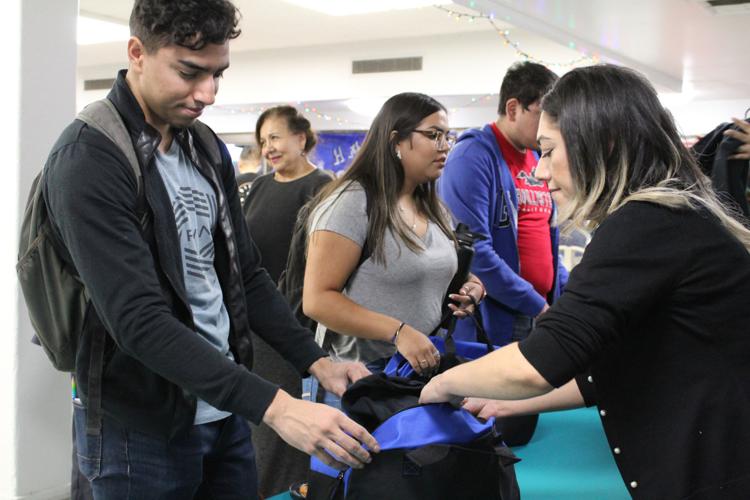 "These students have challenges that are far bigger -- that an event can't be a cure all -- but we do this to promote a sense of community in our students," said Ayala.
Ruthie Argumedo, the associated vice president of Molina Healthcare, said Tuesday's event is part of Molina's mission to connect resources that bridge access to care. She said part of that care involves people having a warm meal, a roof over their head, and clothing. The event is part of the mission to give back to the community, she said.
"This is just a small part of us giving back to the community, so that they do have something warm," said Argumedo. "This will help them be healthy and contribute to their overall health."
Argumedo said Molina does more events like the one at IVC throughout the community. 
"We are definitely excited and grateful, because we know the students need this and will benefit," said IVC's President Dr. Martha Garcia.