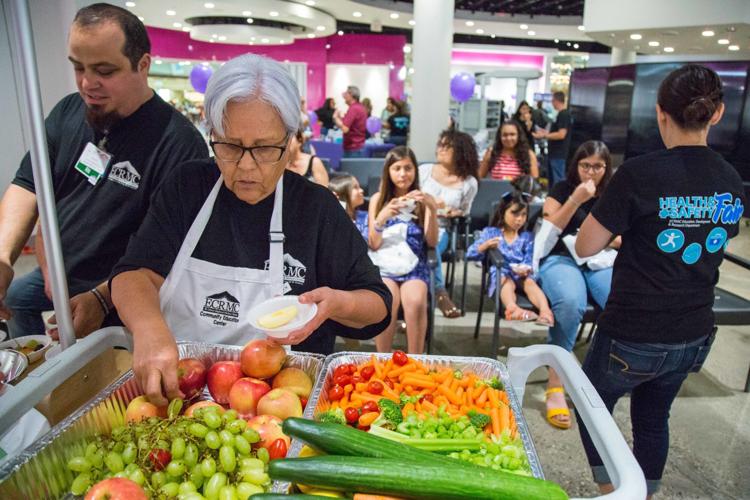 EL CENTRO — Shoppers took home health information from El Centro Regional Medical Center's "Health and Safety Fair" Saturday, September 28. The event was hosted by ECRMC's Community Education Center at the Imperial Valley Mall. 
Parents with strollers visited booths showcasing hospital services. Children were walking around wearing nurse's caps and stickers on their shirts.
The booth with the most attendees was Lupita's Kitchen. A chef who chopped fruits and vegetables was working in the kitchen. Hospital staff offered fruit slices and hot, nutritional dishes to the audience. 
Guadalupe Heredia, RN, and a certified diabetes educator, gave a presentation (in both English and Spanish) about diabetes and nutrition as parents and their children ate food samples. 
"We want to makes sure that our community is safe and healthy. This is part of our community outreach," said Shiloh Williams, RN, director of the Education, Development, and Research Department. 
Williams said the outreach was the culmination of a plan that started nine months ago. "We put on an event that would showcase how we're protecting patients who come into our facility, how we give good care and make sure they are safe," Williams said. 
According to Williams, several hospital departments and community organizations were represented at the outreach and each explained their specialties. Among them were: pharmacists who talked about medication safety, management and proper disposal of medications; diabetes educators spoke about prevention of diabetes and nutrition; physical therapists discussed how to keep mobile and agile; and the California Highway Patrol presented bike and car seat safety.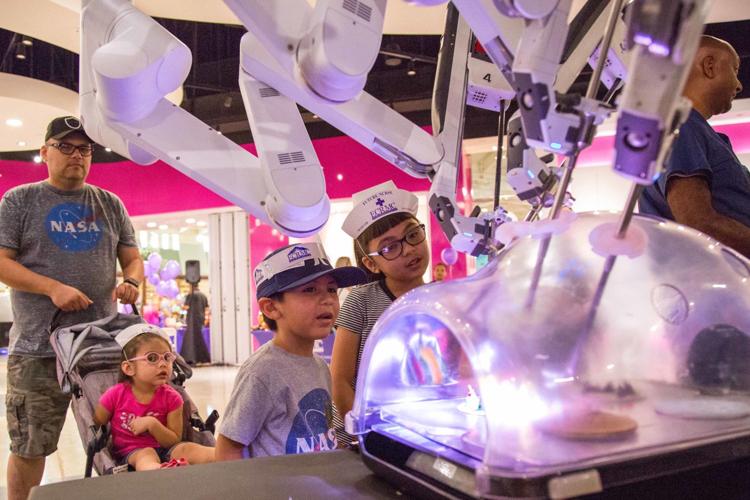 Seeley resident Joe Robles brought his three children to the mall. "I just brought them to walk around," Robles said. His wife stayed at home to rest. 
According to Robles, when he saw shoppers visiting the community center, he too decided to go with his children, Kaylee, 7, Diego, 4, and Valerie, 2. The youngest one was in her stroller.  
"We went to the California Highway Patrol booth. They gave stickers to my children," Robles said. "They showed us how to put the kids' seat right in the car. It is really helpful to know how to keep kids safe." 
Later, Robles and his children visited the Da Vinci Robot and watched a simulated robotic surgery on the chest of a patient. Light was concentrated on the chest area where several robotic arms with instruments were aimed at a colored specimen. 
"This is the most innovative surgical approach as of today," said Armando Reyes, a certified surgical technologist at ECRMC. He showed the three main parts of the Da Vinci system — robot, console, and tower. According to Reyes, the robot module is used for abdominal and thoracic surgery. Some visitors tried to control the arms using the console.
"It is good for the Valley to have events like this," Robles said.