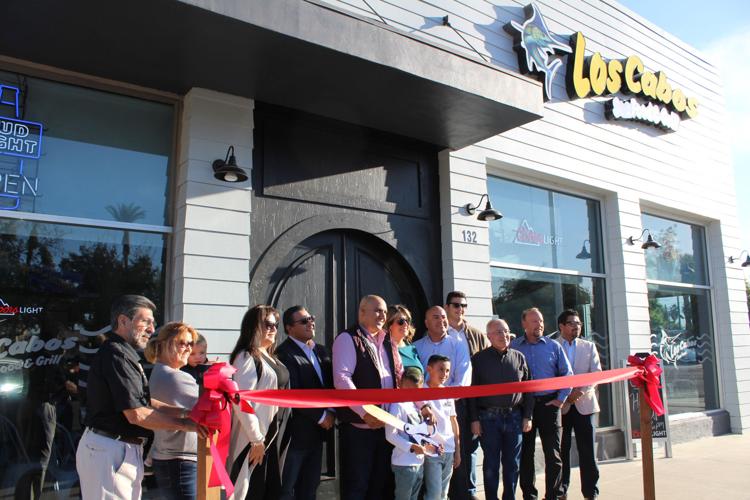 BRAWLEY — Los Cabos Seafood and Grill officially cut the ribbon Wednesday, October 30, on their new restaurant and outdoor patio at a new Brawley location.
Eight years ago, Ruben Luera began with a food truck in Calexico, and a desire to expand with other food trucks in the Valley. In 2017, Luera opened a restaurant in El Centro and now, one in Brawley. Luera said that he originally intended just to have a food truck in the small parking lot that would eventually become Los Cabos's patio, but was encouraged to take the empty building. 
Luera said he loves to eat at food trucks himself. He is inspired by the trucks he goes to in San Diego and wants to make them big in the Valley as a way to create business for the community. He hopes to open a truck in Brawley that can bring more business to Los Cabos and food to others, despite people telling him it will create competition for himself.
"Our first month has been really good, and hopefully we can keep it up," said Luera. "We'll just keep on going and I'll try to bring more business into Brawley."
Brawley Chamber of commerce president Katie Luna said the chamber is very grateful that the Luera family came to Brawley and hope they are able to bring more business into the town.
"It's very critical and important for our downtown area to have another business so that we don't have another vacant building, but also that we have a retail business that's going to bring in customers and increase the tax base here," said Luna.
When asked about his success with Los Cabos, Luera said he amazed by how big it has become.
"I don't believe it sometimes," said Luera. "We've worked a lot but it feels great for my kids to see we've done all of this."
Los Cabos will get its official Brawley welcome and baptizing this coming weekend when the Cattle Call Rodeo rolls into town. Luera said they will make sure they are ready for it.