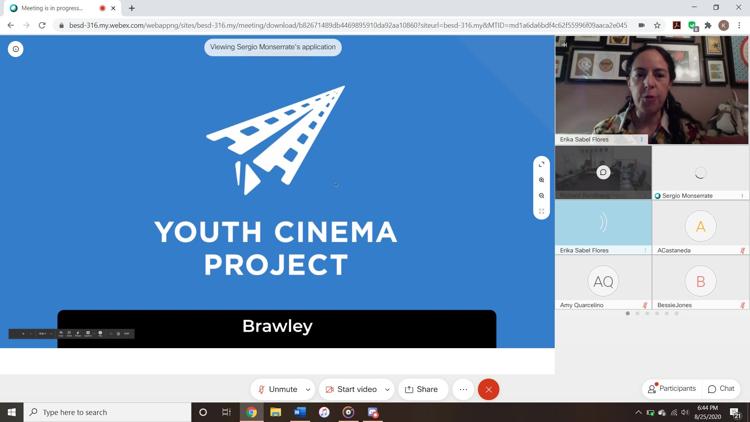 BRAWLEY — Brawley Elementary School District has renewed its partnership with the Latino Youth Cinema Project Tuesday, August 25, keeping a creative outlet and potential future open to students during this time of distance learning.
According to the website, the YCP is a project-based learning that produces competent, resilient, real world problem-solvers, and bridges the achievement and opportunity gaps by creating lifelong learners and the entertainment industry's multicultural future.
Students who take part are able to work with professional Hollywood filmmaker mentors and have their work viewed and critiqued by industry professionals and celebrities, according to YCP Representative Erika Sabel Flores. At the end of the year they have the opportunity to have their work screened in a professional Hollywood setting.
"We were so successful because our stories were so strong and the material our students are producing is just very good and industry level as far as short films go," said Flores
The project has been at Barbara Worth Junior High School for six years and will continue to remain under Teacher Amy Quarcelino due to the ruling.
All of the lessons will be done through Google slides rather than physically, according to Flores. Flores said the students will focus on the story for the first part of the semester, something she added the students are very strong in. Second years will be taught how to write longer scripts and how to refine them. Flores said the curriculum will go fast, but they want the students to be comfortable with what is going on.
"We are going to be taking our time to make sure all our students are comfortable in this environment," said Flores.
The YCP is still working on a plan for the spring semester, according to Tech Presenter Sergio Monserrate, depending on the health situation and whether schools will reopen to in-person learning.
Monserrate said students will need to be present for the class. Cameras are also encouraged to stay on during lessons to allow them to see both their teachers and their classmates while working on assignments. This also shows students how to interact with the screen as a filmmaker and how to work within the film industry, according to Monserrate.
"We are all about student voice, student collaboration, and all about students talking and it's important for them to continue to do so," said Monserrate.
Quarcelino is excited to see how the students are starting to take in the lessons and is seeing her second-year students beginning to take leadership positions in the classroom with confidence.
"I'm excited to see what the YCP can do for the students. I think it can push them further and I think with the social emotional issues that we are having with being online and being in quarantine, I think the YCP is going to help those kids navigate that a little easier too," said Quarcelino.