EL CENTRO - The City of El Centro, Imperial Valley College, and the Imperial Valley College Foundation hosted a ribbon cutting ceremony Friday, May 7, for the new Lotus Living Tiny Homes Project, located at 1998 North 12th Street in El Centro.
Funded through $2.6 million in Homekey funds and $458,000 of Homeless Emergency Aid Program funds, the project saw the creation of 26 tiny home units, assembled as a tiny home village, to serve IVC students that were identified as homeless - there are approximately 210 homeless students attending IVC.
IVC President and Superintendent Dr. Martha Garcia expressed her gratitude for the completion of a project that made a years-long dream come true.
"I knocked on doors and I'm grateful that those doors were opened and I'm really proud because collectively, we have created a community of pride, a community of care, a community that will serve as a model, not only for the State of California, but for the nation," said Dr. Garcia.
IVC student Cierra Gibbs spoke at the ribbon cutting to thank those who made the project possible through funding and through physical construction, as it will give her a place to call home while she furthers her future through her education at IVC.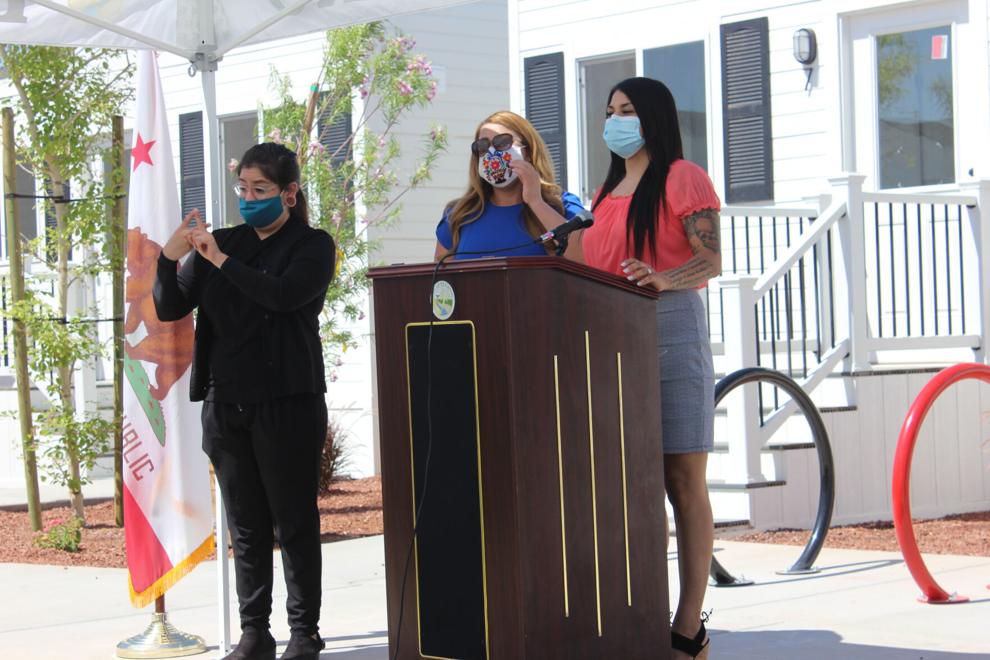 "Two months ago I enrolled in college, and literally three days later I was given keys to stay in an RV at Desert RV park until this project was completed. This project is going to help a lot of students and I'm grateful to be one of them. Thank you for having the vision and for believing in the younger generation to want to better themselves," she said.
She now has a vehicle and full-time employment.
The units come equipped with a bed, mini-kitchen, bathroom, and laundry capabilities. The tiny homes are behind a gated community that the student-residents will receive passcodes to enter. Each tiny home has its own mail slot where all mail and package carriers can deliver. Student-residents are expected to pay a flat $200 monthly fee to cover utility costs. 
The 26 units surround a small patch of grass that is dedicated as a common area, and students are expected to begin moving in by the upcoming fall semester.
IVC Foundation Executive Director Rod Smart said it's difficult to imagine what struggles students go through when they are homeless while also attending school hoping for a better future.
"In a few weeks from now, 26 young men and women will be able to wake up in their own bed, will be able to make their own breakfast, and shower, wash their clothes, and take on the day," said Smart. "For the first time in a long time for many of these students, they'll end the day without the questions of 'where will I eat tonight?' or 'where will I sleep tonight?' They'll have a home to look forward to, to feel safe, to rest, and to dream - and I say chase your dreams, but always know the road will lead you home again."