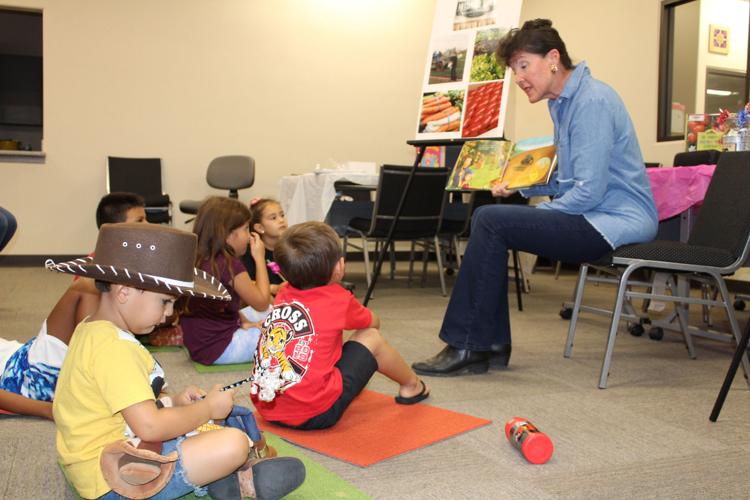 IMPERIAL — Children at the Imperial Public Library learned about food production from the very person it comes from at the Read With a Farmer Day event Friday, September 6.
National Read With a Farmer Day was started to encourage interaction between farmers and children and to teach youngsters where their food comes from. Most children who live in cities don't always understand that food does not originate from the grocery store.
Paula McConnell Pangle, owner of McConnell Ranch in Brawley, was just one of many farmers who read to the kids around the Imperial County. She read at the public library this year, talking to them about where their food comes from as well as encouraging their curiosity about agriculture. 
"We are always interested in getting the young people to know where their food comes from," said Pangle.
Children were asked what they thought of the book, what their favorite vegetable was, and even sang a song about what goes into soup. The El Centro Future Farmers of America were also present to help with the event and had activities for the children. There were also books on agriculture and farming available on the tables for reading.
"It was something new to hear a farmer tell a story and to do something together," said Brenda Bell, who attended with her five-year-old son Josiah Bell.
"My favorite part was singing 'Who Grew My Soup?'" said Josiah Bell. "I learned about where food comes from."
"I liked the activity," said seven-year-old Josue Zambrano as he glued final pieces on his FFA activity.
Pangle hopes the event will spark an interest in agriculture in children.
The Imperial Valley Farm Bureau encouraged the reading event in the Valley. More than 20 farmers read to students in third grade classrooms Friday.