IMPERIAL COUNTY — The Imperial County Office of Education announced that 6th grade teacher Marilyn McAlister has been awarded the County Teacher of the Year award for 2021.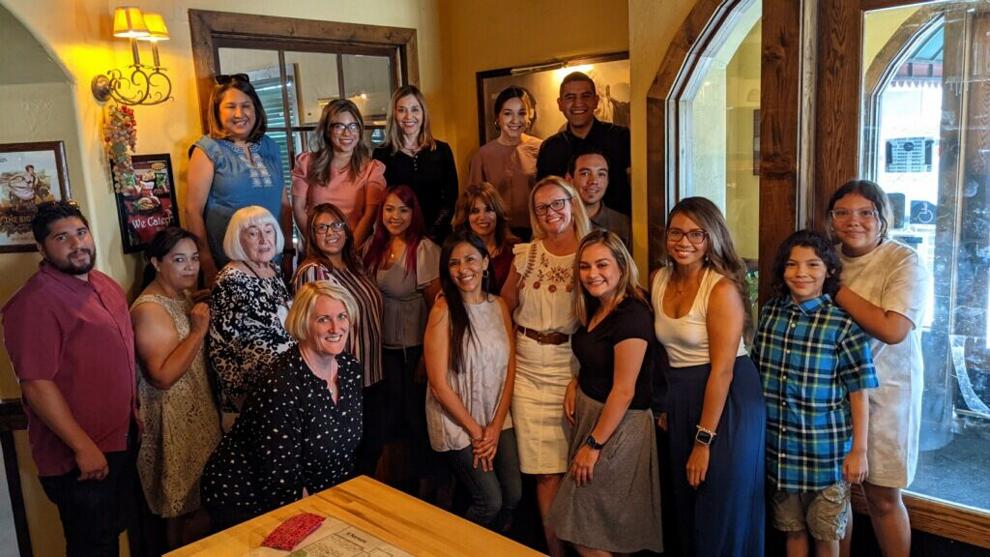 McAlister has been teaching for 28 years, getting her start in 1983 in Calipatria. McAlister grew up with two teacher parents and was raised in an education environment. She admits she actually did not plan on being a teacher because of that and focused on a career as a lawyer. It was one of the partners at the law firm she worked at that set her on the teaching path.
"They said, 'Marilyn, have you ever thought about being a teacher,'" said McAlister.
That question got her to move back home and take her credential course work for teaching at San Diego State University, Calexico campus. The rest was history.
"From day one, it was such a match for me and I'm so glad for the attorney pulling me aside, redirecting me for what has literally been a lifelong passion of mine," said McAlister.
For 28 years McAlister has taught the children of Calipatria, Imperial, and El Centro in different grade levels. Currently, she teaches sixth grade at Sunflower Elementary School. She said sixth graders, who she calls "tweeners," are her passion to teach and said she enjoys being there to help see her students onto their next chapter in life and help them build the confidence they need to go on into junior high.
"Helping my sixth-grade students navigate those transitional years is so, so rewarding," said McAlister. "I absolutely love my sixth graders."
Over the years she has done just that — help her students go on to higher grades and high education and watch them grow into young adults. Every year she gets graduation announcements, quinceañera invites, and has attended a couple weddings. This year, McAlister even attended a virtual swearing in for a former student.
She attributes a lot of her teaching style to her first principal and mentor, Pat Cook. She also thanks the first group of sixth grade teachers she ever worked with in Calipatria for taking her into their fold and guiding her in her first years of teaching. McAlister pays that forward by taking a student-teacher from the SDSU Calexico teaching credential program. So far, she has worked with 11 potential teachers.
This year was one of her hardest, she said. McAlister called the 2020-2021 a "15-month school year" due to all the training, planning, and work that went into preparing for distance learning during the off months. She had an advantage since her classroom is blended learning with technology already and was there to help train other teachers learn the new systems. McAlister became one of 300 international pioneers with a new program, Near Pod, for student learning in the classroom.
"One of my mantras is that students deserve a teacher in a classroom that meets their needs," said McAlister. "During the pandemic, it was that unique opportunity where teachers were able to elevate their technology skills."
She was still worried, fearful even, of not being able to meet her students' needs to the point of shaking in the morning. But she pulled through, even sharing the story that a mother of one of her student's was in and out of the hospital most of the year and would call McAlister to check on her child's grades or say that he would be missing or late to class because of late nights with her. McAlister said it was an emotional situation, to see the mother reaching out even when she was in the hospital.
"Parents needed support, we teachers needed support, and it was not easy to navigate this world," said McAlister. "But I think if there is one word to take away this year, it is to have empathy. I think we all learned to have empathy during this past school year."
McAlister was excited when she heard she had gotten the award and admitted she has been hoping for the award for a long time. She hopes to continue to help put the County on the map with her success.
However, McAlister said the award should go out to all the teachers of the Imperial Valley, for all the work that was done to get through COVID and this year of distance learning.
"This was a year like no other, we not only survived this pandemic, but we thrived," said McAlister.
McAlister is now shooting to win the California Teacher of the Year Award, an opportunity that can net recognition for Imperial County as well as bring more learning opportunities for Valley education.