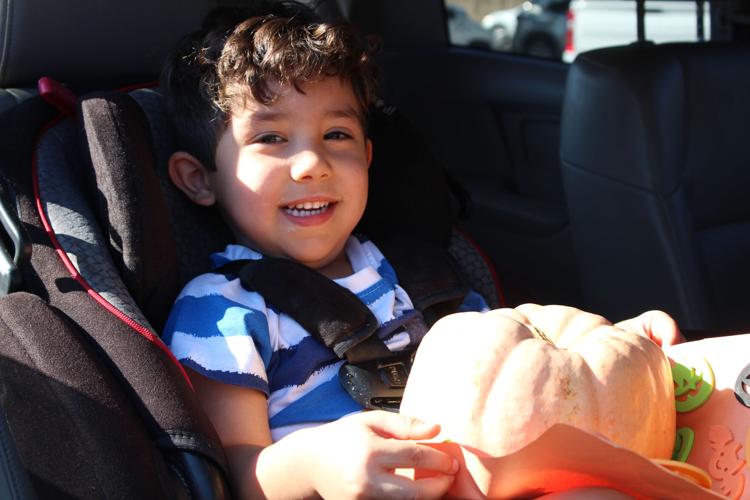 IMPERIAL — Pumpkins are the premier crop of fall and Halloween, pumpkin patches being one of the best ways for families to have fun while choosing their potential jack-o-lantern.
COVID-19 restrictions have cut these events from the Halloween season, but TL Waggoner Elementary School hosted their annual event for their students and the Imperial Valley community by putting together their first drive-thru pumpkin patch Friday, October 16.
TL Waggoner Parent Teacher Organization (PTO) President Nicole Olguin said the parents wanted to do something to make things fun for the kids even if they were unable to do what they usually do.
Normally, the pumpkin patch is filled with other activities for families, according to Olguin, such as games, food stands, and more. Pumpkins are spread out for everyone to pick from. With COVID restrictions, none of that was possible but Olguin said the PTO was able to figure something out so the students could still have a bit of fun.
"We are just happy to see our kids again," said Olguin. "There are a lot of things we can't do right now, but at least our kids can have this."
A variety of pumpkins were available for families to pick from, including carving pumpkins, squash-shaped pumpkins, toad wart or bumpy pumpkins, and Cinderella or fairytale pumpkins.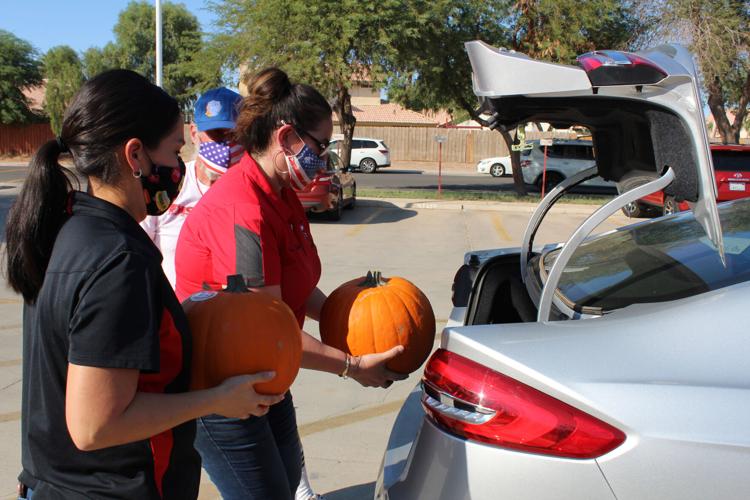 Children watched from the backseats as pumpkins were carried to the cars by Waggoner staff and PTO members to either be placed in the trunk or in the waiting arms of parents and children. Students' eyes lit up when they recognized teachers or school staff members, waving and calling names from the backseat.
This year the PTO also had an option for individuals to sponsor a classroom with a class set of carving pumpkins. A set could be picked up for any classroom at any school in the Valley. At Waggoner, there will be a virtual pumpkin contest for all the classrooms that received a set, keeping children in the Halloween spirit.
All the pumpkins sold at the event are donated by the Scaroni family and have been since the pumpkin patch started four years ago. Erica Scaroni said her husband wanted to start a fun project for their children, growing pumpkins during the summer. The results of the harvest were then donated to TL Waggoner, where three of their children attend school.
"It's a fun thing that we look forward to every year," said Scaroni.
Since then it has grown to not only include Waggoner families, but the entire Imperial Valley community.
When the PTO was thinking about putting together an event during the pandemic, Scaroni said there was no hesitation on their part, only careful planning for a safe and fun event. So far, the feedback has been positive about this year's drive-thru set up.
Last year the PTO raised $4,000 from the pumpkin patch.