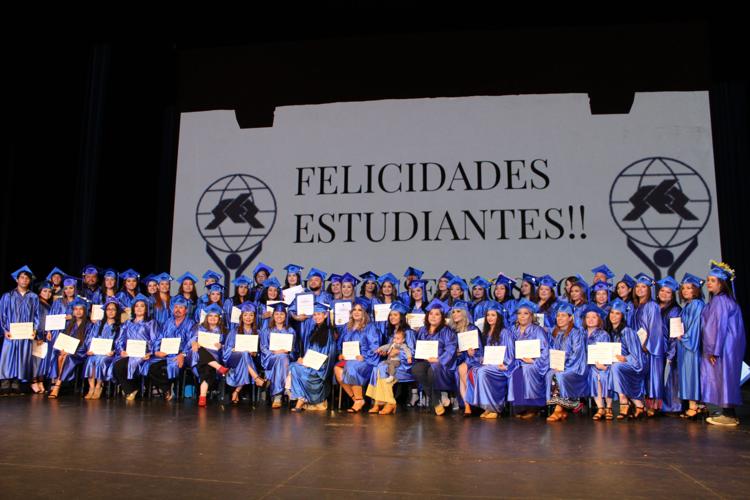 EL CENTRO — The long walk in graduation robes was finally made by 90 individuals Friday night, June 28,  at the 4th annual High School Equivalency Program (HEP) Graduation Ceremony as farmworkers and other adults completed classes to prepare for the GED test at the Jimmie Cannon Theatre in El Centro.
The HEP program is designed to prepare farmworkers to pass the General Education Development, or GED, test. It has been part of the SER-Jobs for Progress program in the United States since 1965 and has helped people better their lives through education.
Some individuals might have received education in Mexico, however, they needed one from the United States in order to get work here. Others simply did not complete high school. Those who test will do so in El Cajon and Coachella. 
Ninety students graduated from the program this year, exceeding the usual numbers according to Marth Anaya, the SER project coordinator. Anaya stated that about 95% of the class is Spanish speaking while 5% are English speakers. She added that 80% of the program's students go on to post education, better employment, and come back to SER for ESL classes.
"Once they pass their test, they always have a positive reason to celebrate after all of the struggles they've been through," said Anaya.
All were given a certificate of program completion. Some individuals received special recognition from the office of Eduardo Garcia for high achievement in the program.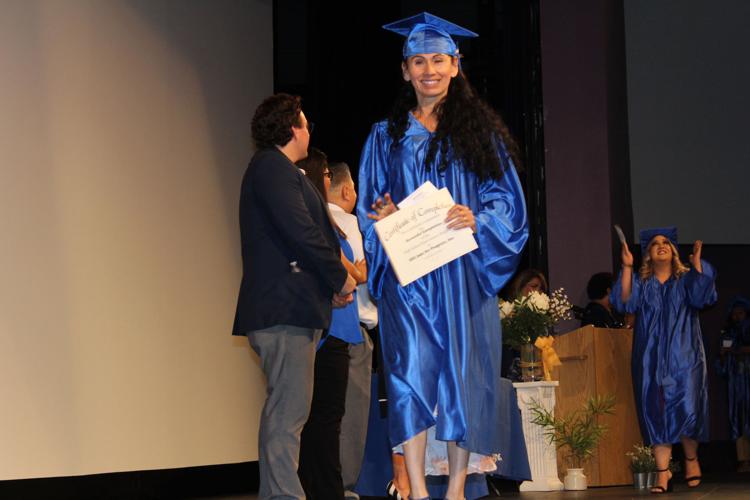 Tears were shed by both graduates and their families as dreams were fulfilled, dreams some thought would never happen.
Alina Martinez didn't think she would make it to this point, but was able to get her GED after years of struggles and has fulfilled a pact she and her husband made years ago.
"I'm very excited, emotional, I can't believe this is happening," said Martinez. "I can't believe I was able to do it."
"My in-law decided she wanted to do the class and I said 'I will go with you' and we did it," said Maria Medina. "I'm nervous and proud of myself."
Alma Badilla has a degree in criminal justice from Mexico, however, she did not have a GED from the United States. She plans to continue her criminal justice studies at UC Riverside.
"I'm proud to have reached this level because it will open doors for me," said Badilla.
During the ceremony, now retired Brawley Migrant Education Program Manager Cecilia Santana spoke about the importance of education, highlighting both her experience and her father's, a farmworker who went on to earn his bachelor's degree.
The mission of SER is to provide individuals the opportunity to become self-sustaining, obtain a quality education, employment and training opportunities, childcare, affordable housing, and other services that benefit the community as a whole.
"It's really an inspiration to us. We're here, know the English language, and I just see them moving on, like 'That's not going to stop me,' said Anaya. "They continue, maybe they don't pass the test, but they get up and they get going."
SER has HEP morning and evening classes all year long in Brawley, El Centro, and Calexico.