CALEXICO — The Robert F. Morales Adult Education Center honored its Centennial Celebration for Adult Basic Education (ABE) Tuesday, Oct. 5, with speakers, singing, dancing, and art on the campus of San Diego State University, Imperial Valley campus — the first area to house adult education in the city of Calexico a century ago.
The just over an hourlong celebration brought together educators, students, dignitaries, and dancers. It included a proclamation from Calexico Mayor Javier Moreno, various speakers, including son of the namesake of the Robert F. Morales Adult Education Center (AEC), Robby Morales, shared a few words. A song by adult ed English language learners, each singing or reciting a piece of the song This Land is Your Land in English, was also presented, as was a slideshow showing the history of the various locations the adult education center has had over the past century.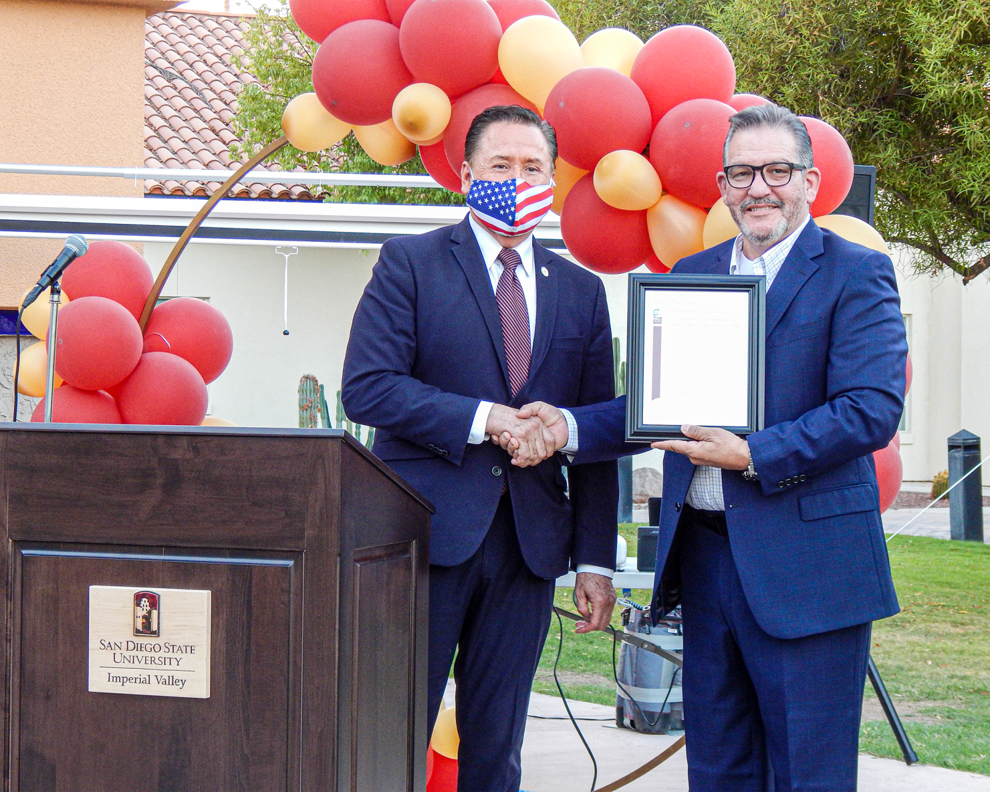 County Supervisor Ray Castillo sang, ABE students performed Mexican ballet folklorico, and an art exhibit featuring local art from the Imperial Valley was opened at the John H. Steppling Art Gallery. Free food, drinks, and a commemorative photo booth was also provided for guests.
Event master of ceremonies and Adult Education Director John Moreno said, though the school has had many iterations and been moved through many locations throughout Calexico over the years, the adult education community gathered together to celebrate "100 years of serving the city of Calexico" because of its importance to Calexico.
"I think it's a milestone for any institution to be around as long as this has, and the impact it has on the community is just endless," John Moreno said.
"Many people think there's an end (to education) — they don't get a high school diploma or learn English — but we provide those opportunities here in Calexico where it's much needed," he said, "and the community just loves it."
"This is the eventual place where we want our students to end up (at SDSU-IV) and get their education, a bachelor's degree or master's degree," John Moreno said. "We've seen many success stories of students who have come through the halls of San Diego State University here in Calexico."
He said before the COVID pandemic, the Robert F. Morales Adult Education Center averaged between 20 to 25 students earning their high school diplomas. In addition to high school basic education, GED, or English Language Development classes, the AEC also offers classes in Career Technical Education courses such as welding, culinary, medical assistant, computers, billing, and coding.
"It's big because they become employable adults," he said in an interview.
"In our community and our Valley, unemployment is always the highest in the state of California," John Moreno said, "so this is a way that we give back and make sure that people become employable, but the biggest part is the staff. They really care about teaching and learning to the adults."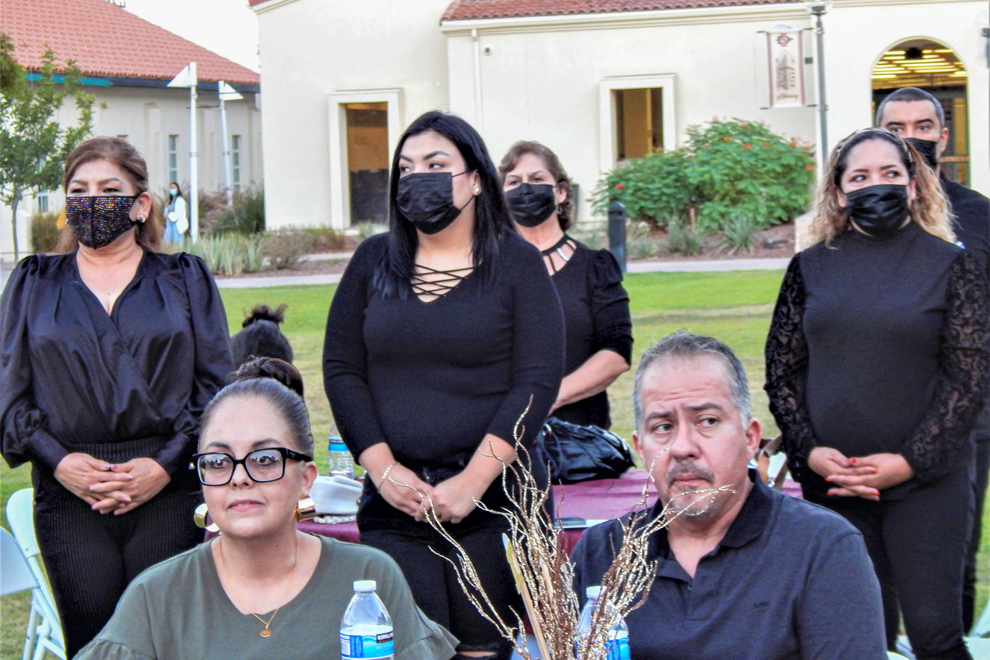 Current Robert F. Morales center ABE staff and past adult educators came together to celebrate the centennial of their passion of educating adults, as many of the speakers talked about not only the impact they had on their students, but the impact their adult learners had on them as teachers.
"I tell my students, 'I learn from you just as much as you learn from me,'" said ESL Teacher Yesenia Campos.
"Sometimes they're working moms, single moms or dads that want to provide a better life for their family … just the dedication that they have (to their education) besides all the responsibilities that they have in their everyday life … they're achieving their goals to succeed in life and it's inspiring," she said.
"(You) see them learn, grow, students come back and have better paying jobs or have their own business," Campos said.
"Seeing their faces when they learn how to express a greeting in English and to know … that I'm kind of that little, small seed that helped them is a wonderful feeling," she said. "Some of my former students are my friends and they still call me teacher and I tell them, 'No, I'm not your teacher anymore. We're friends.' It's a really nice experience."
Campos' student and folkloric dancer Angela Covarrubias agreed, saying even though she's a new adult learner student, it was exciting to participate in the centennial celebration.
"I feel very happy because I think (English classes help me) in my job, (in meeting other people), and its more (growth) and more opportunities," the new student said in a mix of English and Spanish.
Covarrubias said learning English is a way for her to eliminate barriers.
"I like to practice (English) with other people. I love that," she said. "I try. I like it. (I'm not embarrassed. My classmates) help me."
Educators said they hope to continue to work together to support the adult education effort in Calexico.
"You can never start too early and there's no end to education," said SDSU-IV Interim Dean Dr. Mark Wheeler. "If we can continue to partner to help students let's continue that."
Calexico Unified Superintendent Carlos Gonzales said the work that the Robert F. Morales AEC does helps Calexico parents take courses "that as soon as they finish, they can go out and find jobs in the community. Now that's powerful."
"This is a happy celebration … and very fitting that we're here together," Gonzales said.