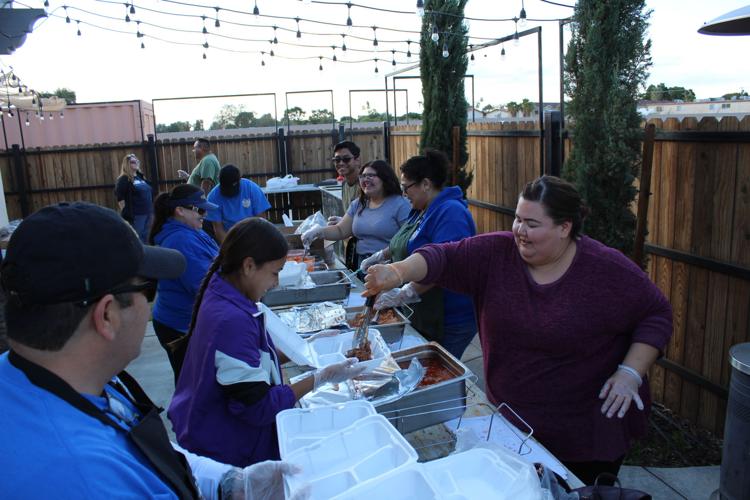 BRAWLEY — The Brawley Union High School Band Boosters held a barbacoa fundraiser Thursday, March 19, at Chabelas in Brawley to fund future expenses for incoming students.
The Boosters sold 310 tickets for barbacoa plates, and the customers were coming in, driving up to the open gate of Chabelas's back patio ready to receive their food. Parents and students made the runs between cars for tickets and bags of food. There was not as long of a line as usual, but it was enough to show the community is ready to help the BUHS band.
The fundraiser was originally to raise money for a competition that would have taken place at Golden Hills High School later this year. However, due to recent circumstances the event is likely canceled. Booster President Alfredo Padilla stated the Boosters will use the money to purchase more instruments for students, fund the repair of some of the band's current instruments, and repair uniforms.
Padilla said the Boosters want to help the students in the band with anything they need, whether it be repairs, instruments, or other expenses. The group was originally unsure whether they could do it, but they wanted to do something that could help the students Padilla said.
"If the money's not used for the trip we will be able to use it for the incoming students next year," said Padilla. "I believe we will be able to do something."
Senior Brandon De Dios made the run back and forth between the table of food and cars, there was a sense of normalcy and routine he said — something that De Dios admitted was good to have in these times.
"It's nice to see people still coming out and supporting us despite the panic from the coronavirus," said De Dios.
Sebastian Preciado, senior, said he felt nothing has really changed for him. He has done band and the fundraiser for years and doesn't see much of a change this year.
"I don't really recognize it. I'm still doing this and doing my homework," said Preciado. "As long as I graduate, I'm fine."
Parent Belinda Vasquez hopes what the parents did will resonate with the students and help them in the end.
"To end this year with this coronavirus, to see the seniors not be able to finish their last year with their last performance is sad," said Vasquez, "but we are going to ride it out, and once the president allows us back to school, I believe it will just make the kids appreciate what all the parents do."
Padilla thanked all the work his board and other band parents did to get the fundraiser together, as well as Chabelas for hosting and sponsoring the dinner.