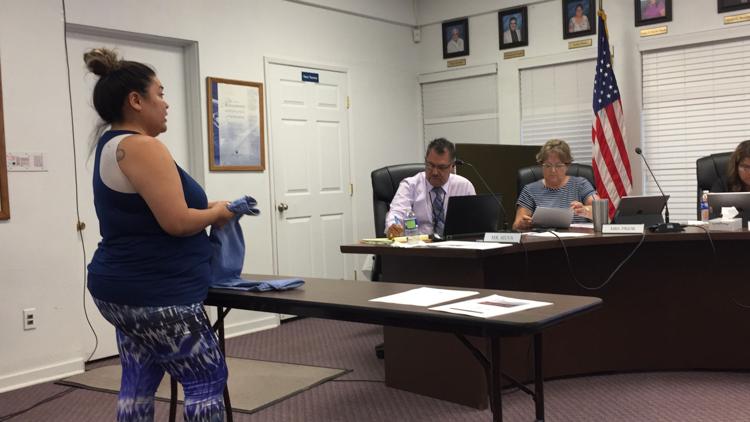 BRAWLEY- On the first day of school, children are usually a ball of excitement and nerves as they walk onto campus.  However, for the past two weeks the students at Barbara Worth Junior High School have been more nervous due to dress code issues.
Sam Torres's daughter came home after the first day of school being dress coded   for jeans that were ripped.  Torres said she bought jeans that were not ripped for the next day of school.  She was given a dress code for the new jeans because they were cuffed.  The next day after that Torres's daughter got another dress code because of the belt she was wearing.  The day after that she was dress coded for her earrings.  By then, Torres was already concerned about what was going on at the school.
"After that, I was asking "What is the real problem?" said Torres, "Ever since that first day she has had to wear the same jeans."
Tuesday evening parents of Barbara Worth students were at the monthly Brawley Elementary School District board meeting to express their concerns over what they say is too sudden of a change in dress code policy. 
Norma Ruiz said her daughter was pulled from class for having ripped jeans.  She says she has been "walking on egg shells" because she has been getting sent to the school Bobcat Center for detention when she hasn't gotten detention before.
"It's a great concern for a lot of our parents," said Ruiz, "My budget does not allow for me to go buy more pants that are $40 a pair."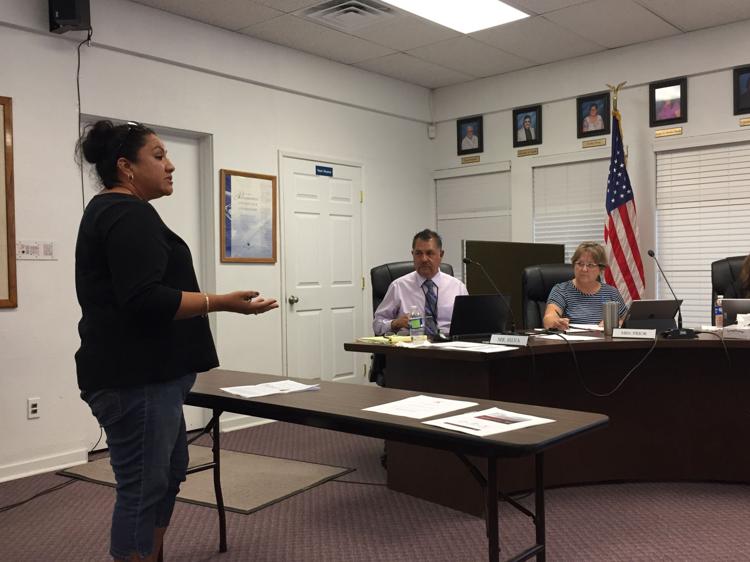 "It is no longer about education, it's about fashion," said Sabrina Sanchez, whose straight A daughter has been given a dress code violation the first week of school.
Parents expressed concern their students were given dress code violations on the first week. Students were told they could not wear ripped or cuffed jeans, leggings, sweaters with hoodies, jewelry that included hoop earrings and chains, and for having belts.  They have been told they cannot wear jeans with patches to cover up the rips. 
Students interviewed by the paper all confirmed it had been a stressful situation and all were unsure what to wear to school.
"We were all excited to wear our outfits for the first day, and we get to school and they tell us we can't wear any of it," said 8th grader Alona Taylor, one of the many students who were given dress code on the first day of school.
"We were told they couldn't wear leggings, sweaters, hoodies, so what are they supposed to wear?" said Christina Trevino, another parent of a dress coded daughter, "The students should be more concerned about passing tests and turning in homework than what they are wearing."
During the meeting BESD Superintendent Jaime Silva stated that the dress code currently being enforced at Barbara Worth has been part of BESD policy for years.  However it is likely it had not been enforced for a while.  He said the district will work with parents to help make the situation less stressful to their students.
Parents are especially concerned since there was no notice before the school started.  Sanchez, Trevino, and other parents confirmed they found the dress code in their students' agendas, but these were not received until students were given their schedules two days prior to the first day of school.  By then it was too late to buy more clothes.  Most of the parents at the meeting said most stores only sell ripped jeans.
"I can't afford to go buy her more jeans," said Torres about her situation, "The cheapest jeans I can find are $14 and I have three daughters."
Barbara Worth principal Kelley Marmalejo had no comment about the dress code situation.
The board did move to create a committee that will review the dress code together with the parents and staff of Barbara Worth.  Silva added the committee might include students from the junior high since they are the ones who are concerned.  Whatever decision is made will affect all of BESD, not just Barbara Worth.
Ruiz said the rest of the parents understood the needs for a dress code and have no qualms with it, but added at this point at least 90 percent of the student population has ripped jeans now and there should be exceptions made until the issue is resolved.
For now, Silva said the torn jeans, while still part of the dress code, will be considered wearable at school if the students have them patched or wear leggings underneath.