NILAND — It has been a week since a devastating fire ripped through Niland, demoralizing a poor community already suffering from a pandemic quarantine. Douglas Kline, principal of Grace Elementary, Niland's only school, spoke about the onslaught.
"It really came at a bad time, 2020 has been hard on us struggling through the COVID, trying to keep our families stable and now we get hit with the devastating fire," Kline said. "It looks pretty bleak if you travel around the town. It really tears my heart out and at this point we are in crisis mode. We are trying to save as many families as we can."
Kline said he and his team are in triage mode, first getting supplies, food, shelter, and clothing to the 112 displaced people out of a town with a population of about 500. But his real challenge is rebuilding the town. The community has always supported the school- and the school, the community.
"But when you have a fire like this, it pretty well knocks everything out. Where is the future?" Kline asked.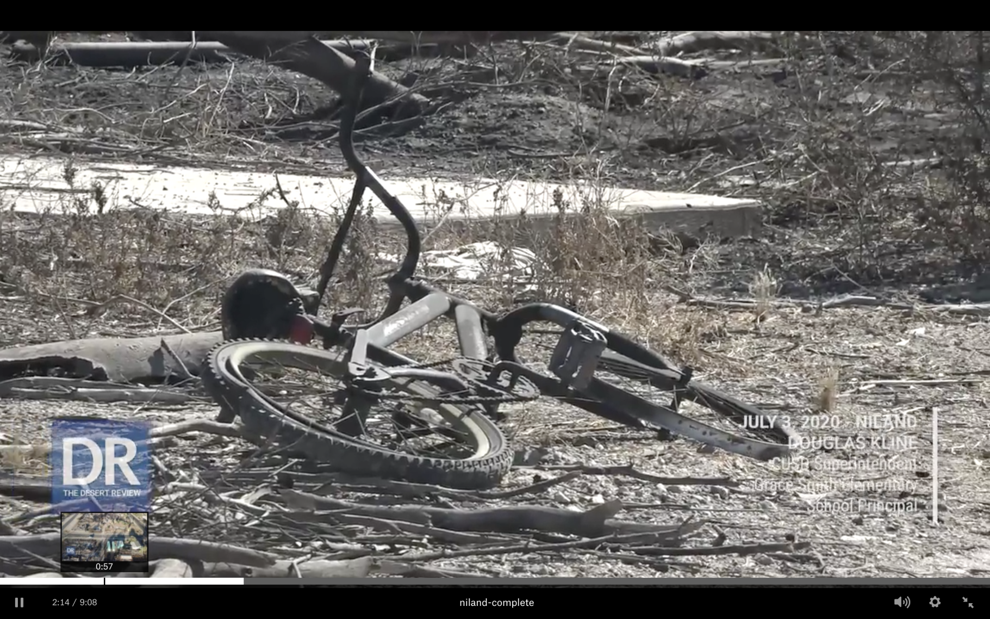 County Supervisor Ryan Kelley, whose district includes Niland, played an active role in the north county since winning his seat, Kline said. He was also in Niland on the night of the fire, trying to help.
"It is challenging," Kelley said, "you can't hold them when they are crying or give them comfort because of the ongoing pandemic. But there has been a huge outpouring of support across the County. I've seen the amount of goods and money donated pouring into Niland. The County is helping as well."
Kelley looks to the future of Niland, too.
"State energy commission is a geothermal advocate who recently granted Controlled Thermal Resources, Energy Source, and Cal Energy grants for lithium extraction from geothermal brine by the Salton Sea," Kelley said.
Kelley believes lithium extraction would make Niland viable again. Controlled Thermal Resources (CTR) has plans to build the largest geothermal plant in the world. CTR and Energy Source are both located closer to Niland than Calipatria. Energy Source is expected to break ground in 2022, and CTR a year later in 2023.
Kline pins his hopes for Niland on an inland port.
"Until we get something in the Northend to sustain this community, we have little hope. These people are hard-working people, they want something to keep them here," Kline said. "Talk of the inland port has been my savior. I hope we can come together as a community (to move the port along) like the Imperial Valley did after the fire."
Kline said he needs everyone who has any part to do with the inland port to help, to think of Niland, even Calipatria. He said the destruction of Niland also impacts Calipatria negatively. The immediate needs are great, Kline went on to say and he voiced his appreciation for the help, but again his gaze went to the future.
"We need to look at long-time solutions to save the town, to save the Northend. Now we need some help bringing the Northend back. That's my hope, I'm not going to stop until we do it," Kline said.
Sean Wilcock, vice president of Business Development at Imperial Valley Economic Development Corporation (IVEDC), spoke about the inland port. The developers were able to secure an option on Imperial Irrigation District's 2,881.05 acres of checkerboard property located between Niland and Calipatria. The parcels are next to Highway 111 and close to the rail line. CEO of Terre Firme, Iddo Benzeevi plans to build a state-of-the-art inland port once he acquires enough contiguous property.
Wilcock is one of several helping the developers turn the vision into reality. The option to buy IID land was a great start, which he said they were all very appreciative of the directors voting approval. 
Since then, realtor Doug Dahm who is helping IVDEC negotiate contracts with landowners that fill in the patchwork of ground, said the developer is about two-thirds there. So far, according to Dahm, they have an additional 1,100 acres under contract with another 1,500 acres of ongoing contract negotiations. Dahm said the price offered for the poorer quality ground is more than fair, and it is a deal of a lifetime, compared to the average price the ground has commanded in the past. But now, it has more value than monetary — it is a life rope thrown to a dying community.
Wilcock said once the site is under the developers' control, they will begin pulling permits and work will begin. He hopes to see ground broken in three to four years. 
Wilcock admitted the project is moving slower than what they hoped, but more properties are coming under contract. One of the many advantages for Niland is the inland port developers plan to rebuild Niland's water and sewer plant. Once the site is secured, Wilcock said the distribution clusters will be built all in one swoop. Everything will start at once. Other possible opportunities for the Northend will be the hotels, restaurants, housing, and shopping a mega-distribution center will need.
Doug Kline looks to the developers helping Niland.
"My whole goal is survival and to do that we have to rebuild this town and we can't do it alone, we did well at the school because we did it as a team. The support from Imperial Valley is unbelievable and we appreciate it so much. Now we have to rebuild the infrastructure and we cannot do it alone."
Someone is popping fireworks in niland...days after we just had a massive fire...WHY???

— 🖤🥀 envidia.a 🥀🖤 (@bethdiazz) July 5, 2020
Guys, please help us... my best friend from my hometown, her ANF her family's house burned down in the Niland Fire.... please, if you can, donate and share. Genesis and her family are the most graviois, generous people I have ever met. Anything helps!https://t.co/zOhw8y1wAy

— Sym🍴 (@xSymantha) July 2, 2020
Niland Fire https://t.co/dHV0uJ0jfe

— Heather Kropf 🧢 (@HeatherKropf) July 2, 2020
For those impacted by the Niland fire, Calipatria-Niland Family Resource Center is serving free hot meals for residents displaced by Sunday's fire. See more here from @IVPNews: https://t.co/5ctBKNMHHN

— Ben Hueso (@BenHueso) July 2, 2020
1 person killed and dozens of homes destroyed in Imperial County brush fire https://t.co/VKwl6Kiyjd

— CA (@CanAnneA) July 1, 2020
Video: A weekend fire destroyed 39 structures in Niland, displaced over 100 residents. (🎥: Omar Ornelas/ The Desert Sun) pic.twitter.com/tQOE2h1AM3

— The Desert Sun (@MyDesert) July 1, 2020
A brush fire destroyed 39 homes in Niland and left one dead. I used a drone to get a sense of the tragedy. Fires are always devastating to cover as a photojournalist. Niland will need help to recover. pic.twitter.com/rN3p0HNx6N

— J. Omar Ornelas (@fotornelas) July 1, 2020
Niland Fire Relief Fund - American Legion Post 60 https://t.co/86v1Cc3av8

— Loser(fOrEvEr)💁🏼‍♀️ (@NikkyNarcotic) July 1, 2020