IMPERIAL COUNTY — Funding windows are opening for local businesses, some are closing, and the Imperial Valley businesses centers are open for business to aid locals.
The Imperial Valley Small Business Development Center (IVSBDC), Imperial Valley Business Resource Center (IVBRC), and others within the Imperial Valley Regional Alliance (IVRA) are reaching out to local business owners and potential partners to help local businesses apply for grants and other help while funds are available.
The round six funding of the California Small Business COVID-19 Relief Grant Program (CRGP) window closes May 4, while the Restaurant Revitalization Fund began Monday, May 3, while still other grants are continuous.
"The information is out there (but) most people don't always hear about it," said IVSBDC Director Jaysel Mendoza, "so we have to be very proactive in pushing that information out and reaching out to our partners to share it on their social media so that we're able to access even more individuals in the Valley."
The sixth round of the California Small Business CRGP offers grants from $5,000 to $25,000 in funding to small businesses or small nonprofits but the window, which opened April 28, closes May 4, according to grants.ca.gov. The site defines "small businesses" as entities having yearly gross revenue between $1,000 and $2.5 million based on most recent tax return, also defining "small nonprofits" in the same yearly gross revenue range.
Mendoza said the CRGP is based on a business's gross revenues for 2019 and, if awarded, the grant can be used for business payroll, expenses, and other business needs with some restrictions.
Mendoza said hundreds of IVSBDC clients took advantage of the round one funding in early March but less have done so between funding rounds two-five, "and now in round six the last few people that weren't aware of it or were kind of iffy about applying for it are calling us to apply now."
"Applicants not selected to receive a grant in rounds one, two, three, and five do not need to re-apply and will be automatically moved into round six," according to the site. New applicants may apply at CAReliefGrant.com or inquire at the local IVSBDC.
Another grant, the Restaurant Revitalization Fund (RRF), provides funding to help restaurants and other eligible businesses keep their doors open.
"This program will provide restaurants with funding equal to their pandemic-related revenue loss up to $10 million per business and no more than $5 million per physical location," according to sga.gov.
"Recipients are not required to repay the funding as long as funds are used for eligible uses no later than March 11, 2023," according to the site.
"For the first 21 days, the priority is going to be given to anybody who is a minority, low-income, or in a rural area; so that pretty much has the Imperial Valley written all over it," Mendoza said of the RRF, "so we've been doing our best to reach out to all of our partners, go out into our communities, make them aware of the program, and let them know that we are here to help."
"It's been a challenge," she said. "There's people that either don't believe in the assistance, don't know about it, or are skeptical, so we're just really pushing them."
"I continue to tell them 'There's assistance right now, take advantage of it,'" she said. "In the long run, we're all going to end up paying for it whether you take the help or not so you're better off taking the help now and putting it to good use."
The RRF is open to restaurants, food stands, trucks, and carts, caterers, bars, snack bars and nonalcoholic beverage bars, bakeries, brewpubs and tasting rooms, breweries and microbreweries, wineries and distilleries, inns with onsite sales of at least 33 percent of gross receipts, and other licensed facilities of a beverage alcohol producer where the public may taste, sample, or purchase products.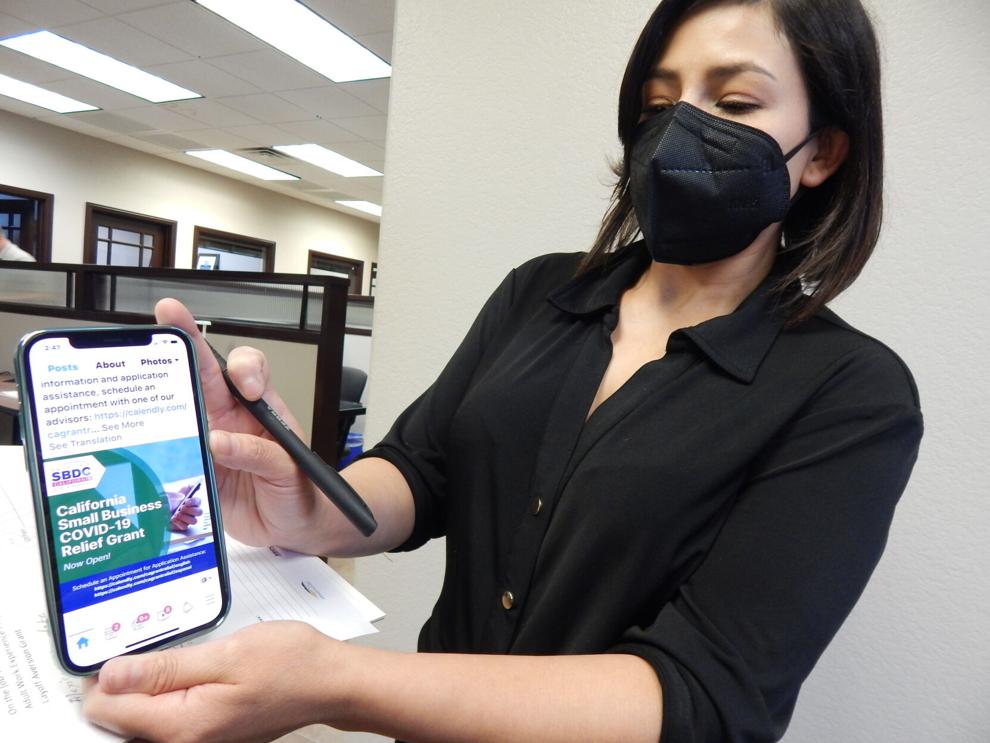 "So, we're actually putting together teams that are going out to restaurants," said Imperial Valley Economic Development Corporation (IVEDC) CEO Tim Kelley.
Mendoza said the US Department of Agriculture-funded RRF grant will provide a total of $28.6 billion to restaurants to "bridge the gaps in their lost income from 2019 to 2020 … and it's free money, they don't have to repay it," she said.
Businesses can apply for the RRF grant at restaurants.sba.gov or inquire at the local IVSBDC.
A federal loan available to small businesses until May 31 is the Paycheck Protection Program (PPP). The PPP is designed to "provide a direct incentive for small businesses to keep their workers in payroll," according to sba.gov.
Mendoza said the PPP provides businesses with two-and-a-half times their monthly payroll. The PPP is currently in its second round of funding, she said.
Borrowers may be eligible for PPP loan forgiveness. Mendoza said the PPP can likely be forgiven "as long as it is used correctly."
Small businesses, including agriculture businesses, can apply for the COVID-19 Economic Injury Disaster Loan (EIDL) through sba.gov on an ongoing basis, Mendoza said.
The EIDL are loans up to a maximum amount of $500,000, if approved, to cover 24 months of economic injury. The small businesses loan can be used for working capital and normal operating expenses such as rent, utilities, health care benefits, fixed debt payments, and more.
The EIDL has a fixed interest rate of 3.75 percent for businesses and a 2.75 percent fixed rate for nonprofits. It is a 30-year term and there are no pre-payment penalties or fees. There are collateral requirements for loans over $25,000, according to the site.
Lastly, the Shuttered Venue Operators Grant (SVOG) is open to live venues or promoters, live performing arts organization operators, museums, theatrical producers, movie theaters, and talent representatives which have been in operation as of February 29, 2020.
"SVOG grants will be for an amount equal to 45 percent of their 2019 gross earned revenue or $10 million, whichever is less," according to the site.
Kelley said about a dozen of those eligible for the SVOG in Imperial County have been identified.
He said these and many more services are available all within the same building which houses the IV Regional Alliance, IVSBDC, IV Business Resource Center, and the IVEDC.
"I have yet to see anyone turned away, regardless if we can help them here or not," Mendoza said.
"We've very willing and open here to help with just about anything, to be quite honest with you, and if we can't do it, we'll make sure that we find somebody that can help them," she said.
The Imperial Valley Regional Alliance building is located at 2415 Imperial Business Park Drive, Suite A, in Imperial.
For help with these grants, loans, or other inquiries, the one stop business help shop can be contacted by phone at 760-312-9800 (IVSBDC) or 760-353-8332 (IVEDC).