BRAWLEY — King of Fadez Barbershop saw long, poufy, straight, messy, and all other types of hair Wednesday, August 11, where they offered free haircuts to help support underprivileged families and children as they prepare for the upcoming school year.
Hairdresser and employee Yvonne Beltran originally proposed the idea to barbershop owner, Alex Guzman, in hopes to give back to the community. Guzman said he was happy to do something to support the families and agreed to the free haircut day.
"Yvonne felt we should do this event to give back to the community during these hard times," said Guzman. "We're just glad to be back and it's always good to give back."
"To be blessed, to be able to give back even if it's just a haircut — a haircut makes people feel good," said Beltran.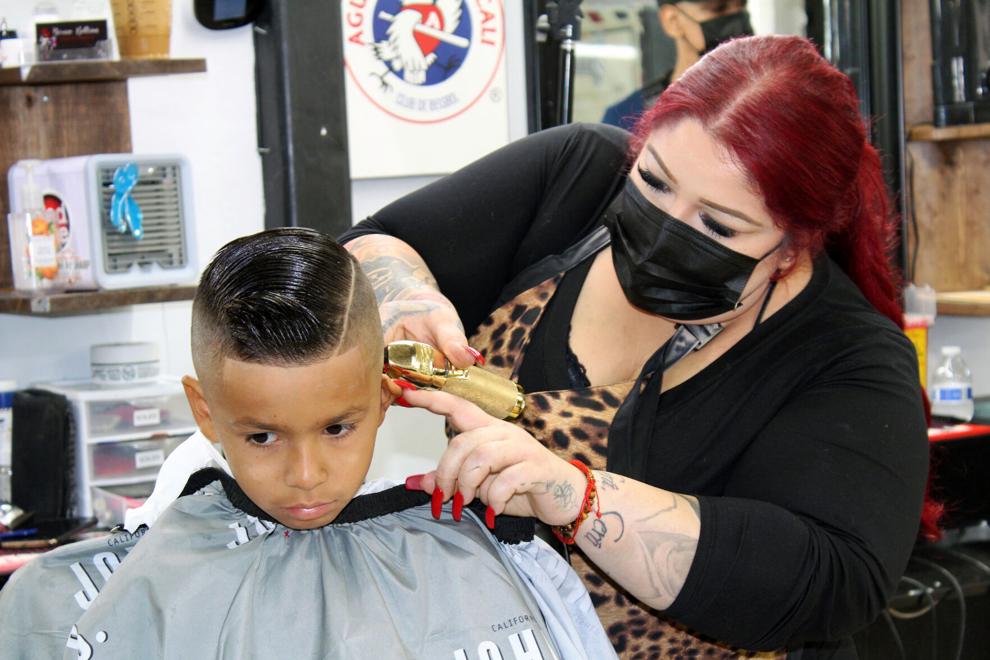 The shop was open for families bringing in children on Wednesday. Both boys and girls were invited to get a free hair cut as well as a backpack filled with school supplies. Drinks and pizza were also provided. Guzman said they don't mind doing a lot of haircuts, it's just another day for them.
Children came in with long hair, fuzzy hair, poufy hair, all looks in between. They walked out with hair looking slick and neat, ready to face the upcoming school year with a fresh style.
Jeanette Montoya drove from El Centro to support her nephew, Guzman, while also getting a haircut for her daughter.
"I like it because there are sometimes people who don't have enough money to get haircuts for their kids," said Montoya. "So, this helps them out."
"A haircut makes you feel like you can take on the week," said Justin Sandoval, a regular customer of King of Fadez. "That's cool that they do this. (It) lets the kids feel fresh for the year."
For many families, Wednesday's event was a blessing that will cover a sometimes-expensive school year necessity. Aleczandria Montemayor took her three nephews to get the haircuts they needed as well as help her sister take some financial pressure off prepping for the upcoming school year.
"You're spending so much on supplies for them, so this is one of the things you won't have to worry about so much," said Montemayor. "There's a lot of little boys where it's hard for their parents to pay and to be able to get it for free, to have that benefit, is a really great thing."
Not only did the shop support the community, but the community in turn supported the shop's event. Donations came in from different groups including Fly By Nite Towing, Los Camperos, Desert RV, and other community members.
Guzman, Beltran, and co-worker Angel "Barber" Madrid will do two more free haircut events this week in Niland on Friday and in Westmorland on Saturday.