BRAWLEY — The Brawley City Council heard a presentation on the IndieDwell Project and about the potential Rancho Los Lagos Project that would see a developmental expansion on the north end of town at its regular meeting Tuesday, Oct. 19. 
The first IndieDwell project is a $10-million investment on a new land parcel that will consist of a new 107,000-square-foot industrial building, create 200 new living-wage jobs with employee ownership, and generate new revenues from sales and property taxes. 
Plans for a new development in the area have been in various stages of progress and setbacks for some time now. The property has been farmed since 1983. Laura Benson Vandeweghe led a team of planning experts to draft the Rancho Los Lagos family and business community. 
According to Vandeweghe, her plan was approved by the Imperial County Board of Supervisors back in 2012 and a commission was formed to move forward with development but ultimately stalled due to water treatment issues.
"IndieDwell is a modular manufacturer of units that are assembled together to create multifamily housing … each of these modules will be constructed from start to finish inside of the factory. As you can appreciate, those are jobs, start to finish," said Vandeweghe.
Vandeweghe is also the chief innovation officer for a global housing development in Los Angeles and was approached by IndieDwell to form a plan for a new project with economic and affordable housing. 
"Why Brawley, why did they choose Brawley? Because Brawley is so well located. Los Angeles, San Diego, Las Vegas, Phoenix, Yuma, we all know," said Vandeweghe.
Vandeweghe said she brought the higher-ups at IndieDwell to see Brawley to decide if the location would make for a great new area of development. 
"They're on board, they're very excited about it. We even applied for a California Competes grant, which the new company was awarded," she said. "So, the new operator will be a new company California-based business and partially owned by the employees, we're really excited about that." 
The second project is planned to be located in the 1,076-acre Rancho Los Lagos near the Walmart in Brawley. DuBose said the new expansion will include 3,830 housing units, a golf course, elementary schools, a business park to attract new industry, a medical office complex next to assisted living, and a sports complex with a hotel.
The Rancho Los Lagos Project recently gained traction when the council suggested to Vandeweghe to annex the property into the city. The city of Imperial has already approved the plans and Vandeweghe and Tom DuBose of DuBose Design Group were on hand to get the project moving in Brawley.  
"This is a project that is being brought into the city of Brawley by the Benson family, they're the ones that put this together. We've already been through the planning commission to create the parcel, we've already been through city staff to get the site plan approved," said DuBose.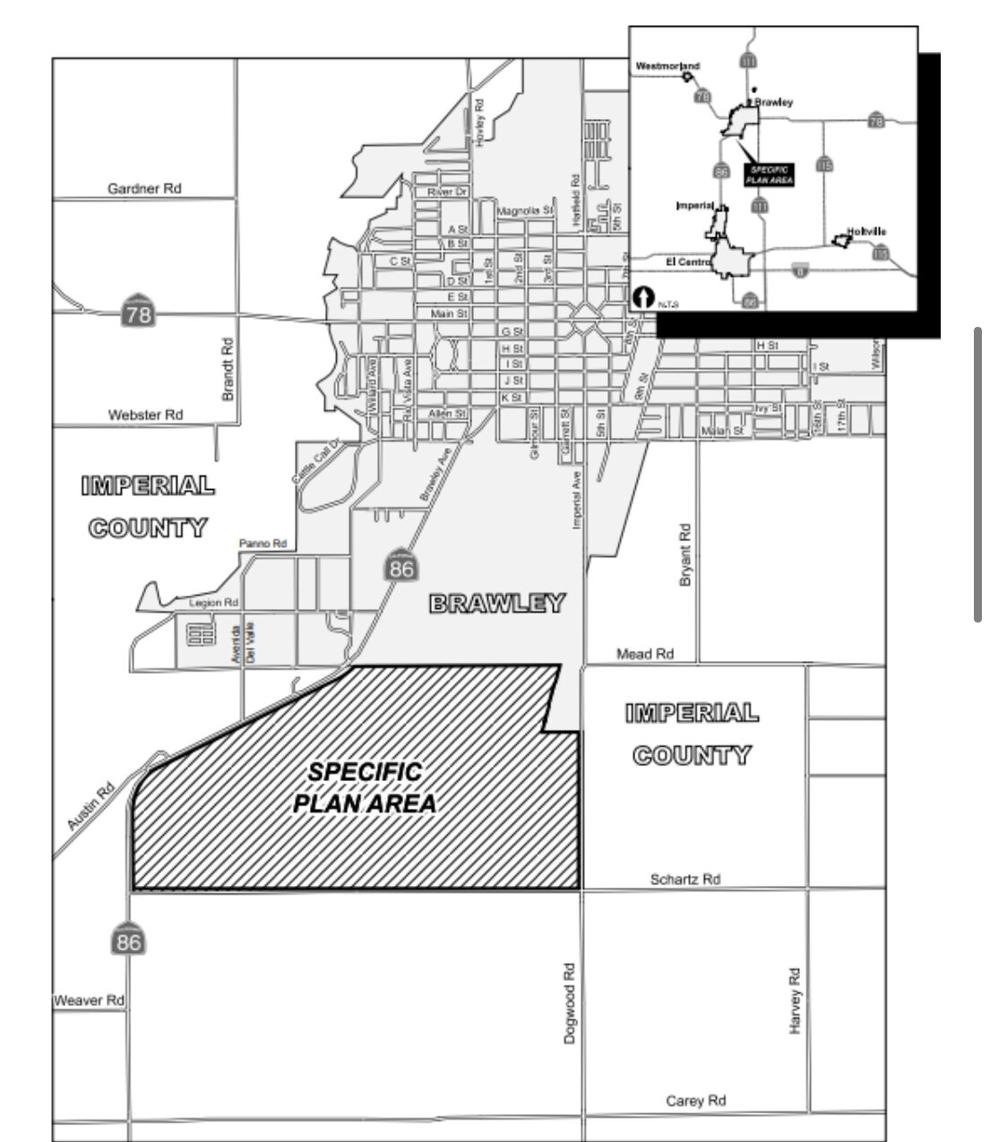 "It's a very diverse project, it's going to have a lot of open space that would be managed by an HOA so that gets off the headache books of the city of Brawley. Fifty percent of this land area is residential, 18 percent of it is commercial … but also medical. We have a very fine hospital up here in Brawley, we want to be able to add to that with a senior component. This will be a walkable, recreational, senior-friendly, community for the city of Brawley," said DuBose.
"I'm here to tell you today that one of the five major hotel chains in the world, a representative has been here to Brawley and they're looking at two sites … again, we won't go into a lot of detail other than there is a very strong interest," said DuBose
DuBose said the plans he was presenting to the council were shown at a meeting in Phoenix of this unnamed hotel chain, and they reportedly were interested in creating a new resort in Brawley. 
"In Imperial Valley, we have an excellent proximity of market. I like to tell people … that all our lives we accepted the fact that we were in the middle of nowhere. That's no longer true, we're in the middle of a lot," said DuBose. 
DuBose said a lot of opportunities are coming to the north end of Brawley as a result of all the planned expansions of geothermal energy like lithium and biofuels. 
"What am I saying here in summary? The new job center of Imperial Valley is going to be in the north end. This is an opportunity now for people like me who live here in Brawley, who drive to El Centro, maybe we'll not be driving south anymore, we're going to be driving north," said DuBose. 
DuBose said they are very close to finalizing a grading plan and hopes to bring it before the council in the next three months. He said they still need to create a fiscal plan, update the city services plan, and make modifications to fit Brawley's city standards. 
"We believe Rancho Los Lagos brings that opportunity of a new tax base, generating growth, and attracting new families. Business creates business," said DuBose.
DuBose stressed that he and the Benson family support Brawley's utility tax extension coming up before the voters in the coming election. Brawley voters last extended the utility tax to remain at 4 percent in 2017, which creates revenue used exclusively at the community level. 
"Now is not the time to further handicap us, we've had one arm behind our back for a very long time. Not renewing that utility tax would be taking the other one right at the wrong time where a lot of this new growth is about to happen … now is not a time to take us behind … there are some exciting times ahead and some of those are already in the permit stages," said DuBose.