Supervisory CBP Officer Matt Rode opened the back of a cargo truck near San Diego May 28, and said he saw something all too common at US Customs and Border Protection's more than 300 ports of entry: a large stash of drugs. The shipment had more than four tons of marijuana, not even that well-hidden, according to the release.
"It was listed on the manifest as hot tubs, spas, and miscellaneous plumbing supplies. But [the marijuana] was just thrown in there from front to back," said Rode, who works as a member of CBP's Anti-Terrorism Contraband Enforcement Team, a specialized unit set up to seize drugs, weapons, currency, and illicit contraband and part of CBP's layered approach to drug enforcement. "They just throw it in there with the merchandise and hope they get lucky."
It wasn't an unexpected sight for Rode, as powerful X-ray machines and drug-sniffing dog teams had already alerted on the shipment, letting CBP officers know where to look. The size of the drug shipment wasn't unusual, as the same port of entry saw just a few days later busts of more than 11,000 and 20,000 pounds of marijuana each. The entry point from Mexico in the Otay Mesa neighborhood of San Diego is the busiest in all of CBP in terms of the tonnage of drugs the officers encounter. For the entire San Diego Field Office, from October 1, 2019 to May 30, 2020, officers seized:
Nearly 81,000 pounds of marijuana
4,773 pounds of cocaine — 18 percent of the nationwide seizures
1,141 pounds of heroin — more than a third of the national seizures by CBP
54,572 pounds of meth — 56 percent of the nation's seizures
911 pounds of fentanyl — nearly two-thirds of CBP's seizures nationwide
According to the release, this time of year is particularly busy as it's harvest time for marijuana south of the border. CBP has a harvest of its own, intercepting the illegal drugs trying to pour across the border. Within a couple of weeks just after the May 28 bust, San Diego saw two more large marijuana seizures, totaling more than 20,000 pounds.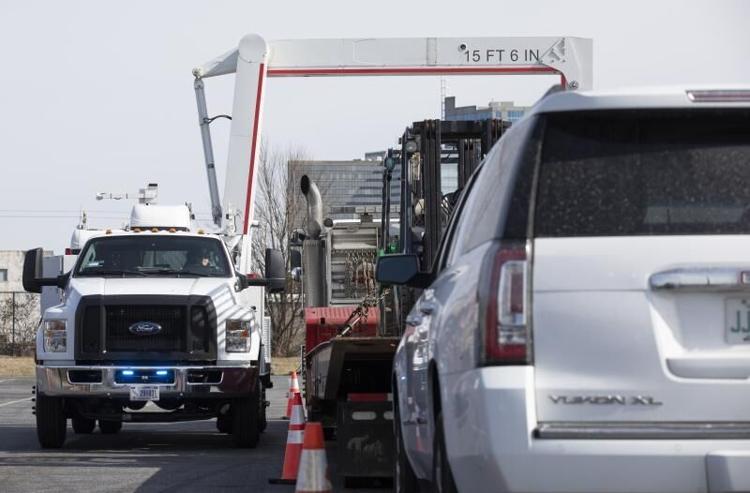 "In the cargo area, it's different than on the passenger side, as they try to take advantage of big conveyances," said Supervisory CBP Officer Luis Silva, enforcement chief at the Otay Mesa Port of Entry. "Between March and May, we get the larger loads of marijuana, and it will pick up again in August, September, and October."
Silva said in between the large marijuana harvest times, they see upticks in other drugs such as methamphetamine, cocaine, heroin, and fentanyl.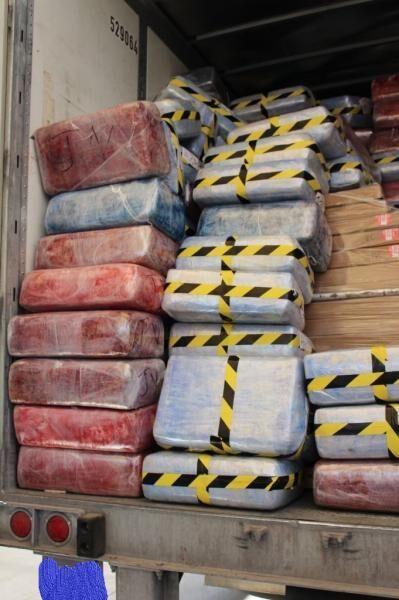 On a larger scale CBP-wide, the size of the recent drug shipments and how brazen they were could be indicators of how desperate drug smugglers get, especially as restrictions on non-essential travel due to the coronavirus pandemic at the ports of entry limit what passes through the portals into the United States, according to the release. Stephen "Mac" McConachie, CBP's liaison at the White House Office of National Drug Control Policy, compared it to the run on some grocery store items, such as toilet paper, that saw an inflated demand at the start of quarantines and has now returned to more level numbers as far as supply goes.
"People hoard things when they believe those products will become unavailable," McConachie said. "Dealers, users, cartels — they all hoarded what they had. Now, they're releasing their drugs, and the sudden spike in supply has pushed the price down. That leads to drug smugglers trying to move through larger and larger shipments to make up in volume, what they lose in value."
In the days leading up to COVID-19 restrictions in late March, CBP saw a surge in drug seizures of all types, as smugglers hurried to get their products through the doors before they shut. In April, drug seizures went down significantly, but they were back to pre-COVID-19 levels in May and June. "The drug cartels are trying to respond to the changes at our borders," McConachie said.
Montana Whitehead, an intelligence research specialist at CBP's headquarters in Washington, D.C., said meth made a comeback in the last couple of years. During the COVID-19 pandemic, methamphetamine seizures never fell off.
"Methamphetamine has seen our largest increases, up from about 20-30 percent," during the past two fiscal years, Whitehead said. "It's the only drug along the southwest land border where we did see consistent weights compared to previous quarters," except during April's initial downturn.
He said meth is cheap to produce, production has gone through the roof, and the purity of the drug is at some of its highest levels ever.
"The markets have dramatically increased their demands for methamphetamine, and it all kind of coalesces into a perfect storm environment where they can move large weights without large cost investment risks," that a drug such as cocaine might have, Whitehead said.
At the end of April when travel restrictions were at their highest, CBP officers in Laredo, Texas — another particularly busy port of entry for the agency — caught nearly 600 pounds of meth worth more than $11.5 million coming in in the back of a tractor-trailer. Just like the large marijuana shipments in California, powerful X-ray equipment and sharp-nosed dogs played significant roles in intercepting the illicit cargo hidden in a shipment of stone tiles. The increases weren't seen just along the southern border. For example, from mid-March to mid-June, CBP officers in Buffalo, New York, saw drug seizures grow 4,000 percent compared to the same time a year earlier.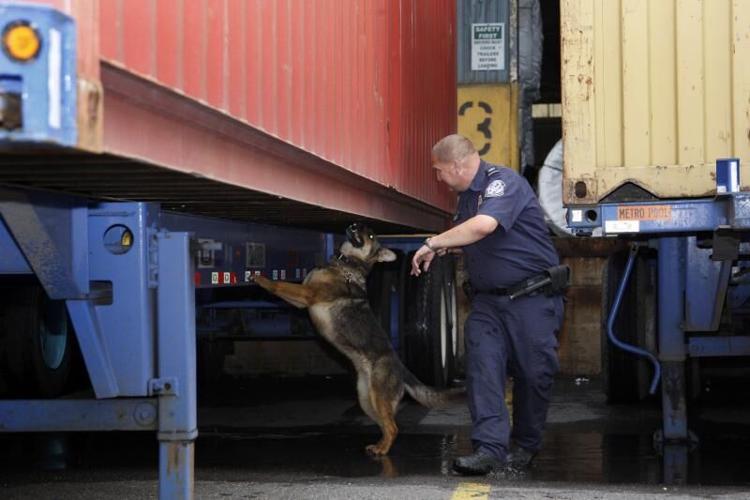 Whitehead said his office works closely with fellow state, local, and federal law enforcement agencies, such as the Drug Enforcement Administration, to take a whole-of-government approach to stop drugs from entering the Country.
CBP's efforts have been helped by the sharp reduction in personal vehicles — which carried more and smaller loads — coming through the ports of entry and the rise in commercial trucks loaded down with larger quantities of drugs. More CBP officers were taken out of the personal owned vehicle traffic lanes, where they were trying to screen thousands of cars and trucks every day, and moved to the commercial truck operations, where the numbers might be in the dozens. Fewer targets meant more hits, and those hits were larger because they were in tractor-trailers, and not hidden in a trunk or body panels of a car, according to the release.
"With that change of workload, we were able to keep our enforcement focused and continue to have individuals work the commercial environment," said Greta Campos, director of Tactical Operations for the Office of Field Operations, the component of CBP responsible for running the land, air, and sea ports coming into the Country. She also said drugs coming in personal cars, trucks, and SUVs have seen an uptick again. "We're still getting a significant number of seizures out of [personally owned vehicles]."
Without tipping their hand at how CBP knows smugglers are changing their tactics, Campos did say the agency has adjusted to the changes the crime bosses tried to make.
"The criminal organizations will smuggle whatever folks want, and they will try to have diversified 'business interests,'" she said. "When they attempt to do that through or between our ports of entry, we in CBP work very hard to detect, intercept, identify, and prosecute those individuals who are doing so. We strive to stay one step ahead of our adversaries."
She cited the close cooperation from her office with the people in CBP's intelligence channels, such as Whitehead, to see any changes in tactics or products.
"When we see, for instance, that the [Drug Enforcement Administration] is reporting that the price of meth has gone up in certain areas, we can recognize there's a higher demand and lower supply that indicates a level of desperation [on the criminals' parts]," Campos said.
Whitehead said the drop off and the resurgence of a lot of drug smuggling during COVID-19 shows interdiction efforts are important and never subside — pandemic or not.
"The COVID-19 crisis is obviously temporary," he said. "Methamphetamine was impacted in a minor way, at best, showing a very strong supply chain from production, to smuggling, to demand within the United States."
Whether the latest surge is marijuana, meth, or opioids, and is driven by travel restrictions, harvest time considerations, or by demands from the users in the US, Rode said they're ready for whatever the smugglers attempt.
"They're just hoping to try and get by," he said. "We're prepared for whatever they try to do."