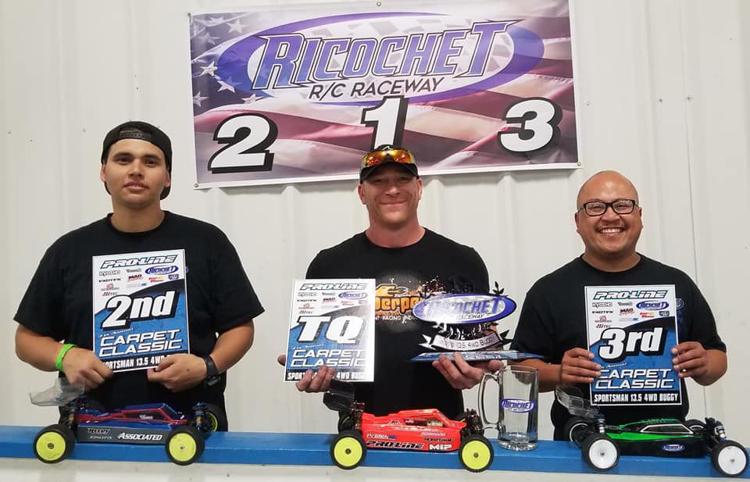 IMPERIAL — The Imperial Valley's Ricochet R/C Raceway kept traditions alive by hosting their fourth annual Pro-Line Carpet Classic, drawing in local and national racers July 27–28.
With the help from Victor Pintones and crew, this race has grown into eight separate divisions, with a wide variety of cars.
"Each year, our races are getting more competitive with the new and original racers, as well as the new equipment that people are using on the R/C car to make them faster and smoother on the track," said Track Manager Victor Pitones.
The finale of the two-day competition began at 10 a.m., when the young racers in the kids' division kicked off the races. After many laps, the racer that managed to take first place this year was Imperial's Brody Lopez. The racer that came in second place was Cayenne Kaufmann, while third place, Devin Suchma, finished close behind.
After a few more practice laps to tweak their cars, the next division of Sportsman 17.5 2wd racer looked over the track to start the final races. Once the times were calculated, the first place for this year's classic was Tony Whittier, followed by Brian Wright. Third-place was awarded to Mark Carvalho.
The next division that had their go at the track was the Expert 17.5 2wd racers. After the racers completed their laps, Matthew Gonzales won first place was. The second-place winner for the same class was Mikey Bustamante, followed by Emma Ramirez in third.
The fourth division that fought for their chance to be this year's winner was the 2wd mod buggy. These small versions of buggy vehicles zoomed around the track and Frank Root took first-place. Coming in second was Eli Westrup, and in third place was Andrew Swanson.
The next event Sunday morning was the Sportsman 13.5 4wd racers. Coming in first was Jason Soyky. Next was Kyle Counce, followed by Danny Tomboc in third.
The next race was between the Expert 13.5 4wd racers and resulted in Matthew Gonzales taking first place and Ryan Reagle claiming second. In third was Mike Katz.
The following race was between 2wd Open Stadium Truck racers. The final results showed that Mikey Bustamante took first place, while Miguel Gomez claimed second. The third-place racer for this event was Gerardo Gonzalez.
To conclude the day of racing, the Pro2 racers took to their positions. First-place went to John Caudillo. Second place winner was Oscar Gonzalez, followed by Gerardo Gonzalez in third.
"Our Carpet Classic has grown over the years and we hope to continue to get the support from not only the community but the local businesses that has helped out our facilities," said Pitones.