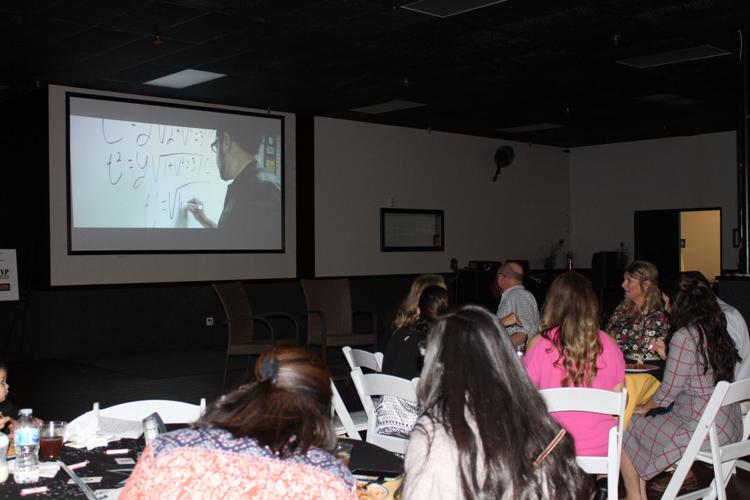 IMPERIAL — Filmmakers and film lovers of the Imperial Valley gathered at Ricochet in Imperial Friday, October 18, to celebrate a night of local movies at the eighth annual Imperial Valley Film Festival.
The IV Film Festival was started to provide a venue for local filmmakers to screen their work. Imperial Valley Film Commissioner Charla Teeters said that the commission wants to provide a space they might not normally have.
"We want to give local filmmakers an audience and to encourage and give them feedback," said Teeters.
Seventeen projects were featured at this year's festival ranging from short films, documentaries, and music videos. Q&As were held with each filmmaker after the screenings. Three local artists also had their artwork featured. Teeters said art and the film industry go hand in hand and it made sense to feature them together at the festival.
The overall winner of the festival was "Manos Que Nos Hicieron" by Julius Olivas.
Films were placed into four categories and judged by local community members: Best Representation of Valley Life, Best Screenplay, Best Documentary, and Best of the Festival.
Olivas was born and raised in Imperial and has since moved on to work all over Southern California. His film is about the process of making tortillas and the importance of keeping cultural traditions alive in the community, something Olivas holds close. The film also won the audience favorite award.
Olivas was overjoyed to see his film win, giving a lot of the credit to the crew he worked with to bring the film to life.
"I was surprised and happy to win," said Olivas. "I'm glad the film got the recognition it deserved and that the people deserved."         
Anuj Shukl, creator the short film "Perception," saw his first film ever on the screen at the festival. Shukl, who was an actor as a child in India, said he has always had a passion for film as a way to share stories.
"There is so much we can communicate with people without actually being there," said Shukl.
Mexicali filmmaker Axel Nunez's film was given the Best Documentary Award for his film "La Ultima Frontera" or "End of the Way" on Haitian immigrants crossing the border. Nunez shared the story that not only reflects that of many immigrant families in the United States, but also his own.
"For me, film is a way to communicate my thoughts with people," said Nunez. "I think that films are a mirror of us, the audience."
After six years of work, Justin Burquist finished his music video.
"I'm happy to see it completed," said Burquist. "The process of creating something and actually showing it to people and getting a reaction is insane."
Musical artist and Imperial native Sedrique got to see himself for the first time on the screen during his first music video. He is proud the video of his work was able to be feature in his hometown and that the film scene has grown so much since he left.
"Maybe in the last eight or ten years it's been like 'dang, there's a been a lot of art here growing to a head' and it's awesome," said Sedrique.
All filmmakers were happy to see their work played before an audience, especially Imperial Valley natives. Teeters added that some local filmmakers do go on to other festivals outside Valley.
"I like working with people to tell a story that, hopefully, people can relate to and be touched by the films and all of our lives be improved for it," said Olivas.
Julius Olivas said he will be starting a film club at Imperial Valley College soon with hopes of helping college-level filmmakers make their way into the film world.
Olivas encourages anyone who is an aspiring or currently working as a filmmaker to connect with him or contact any of the film makers at the film festival at julius.olivas@gmail.com.