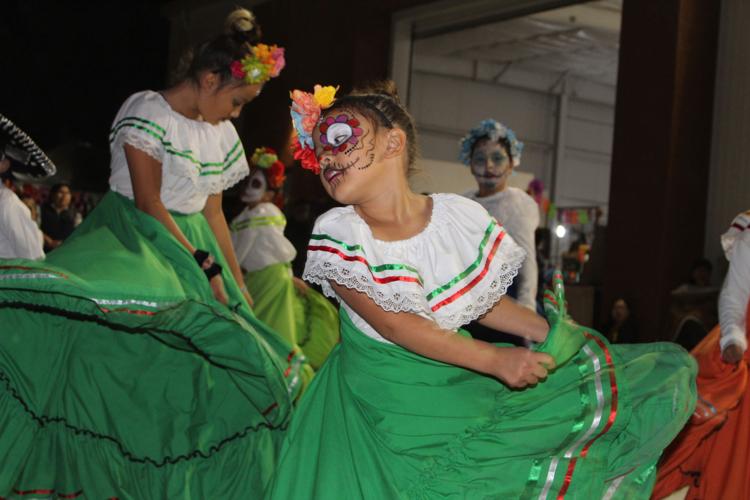 IMPERIAL — Odds and Ends, Unwind and Design, and Code of the West Designs held the inaugural "First Fridays" November 1, at their new studio behind NS Construction in Imperial to reinvigorate the Imperial Valley art scene with a Dia de los Muertos theme.
Local artists and craft makers were able to showcase their work; there were art booths, crafts, Folklorico dancers, face painting and more. Ofrendas were also on display for those wanting to honor loved ones who have passed on. The studio also held a contest for the best Dia de los Muertos decorated booth.
Owners Kayla Dotson, Kimberly Alfaro-Masey, and Terry Mercer were inspired to create the event by similar art walks that were held a few years ago in Brawley and El Centro. Rather than renting a major street or an alleyway, the studio was a perfect place to have it.
"We decided 'You know what? Let's start making events to promote creativity' because we used to love doing those," said Alfaro-Masey, owner of Unwind and Design studio.
"This is just for the community to come together; special days so that they can have a safe place to go," said Dotson, owner of Code of the West Designs.
Leslie Lara, an artist and hula teacher at Casa de Cultura, had a booth at art events before and was happy to see the art walk return.
"It's nice to see we are getting back into it," said Lara.
Isaura Badillo is a crafter from Imperial who specializes in quilting and stitching. This was the first time she had participated in a craft-only event and enjoyed it.
"It's small and cozy, but people are very open to the experience here," said Badillo. "I think once the word gets out that we have a crafter's event like this, you'll see a lot more outpouring of talents in the Valley."
Not only does the studio plan more First Fridays, but also Second Saturdays and Third Saturdays. According to Alfaro-Massey, the Second Saturday will be a combination of crafts and farmers market, while the Third Saturday will be purely a farmers market.
Alfaro-Masey said that the studio hopes with they can bring a resurgence in the arts in the Valley with First Fridays. The ladies would also like to move the Casa de Cultura group from El Centro to the studio in Imperial, and encourage the community to come by.
"We are hoping it grows, and are very hopeful for the future," said Alfaro-Massey.