The Desert Review is conducting a series of articles promoting local arts studios, artists, and arts programs within Imperial County.
BRAWLEY — Eight year-old Harper Haendiges walked about the DS Arts Studio & Gallery in Brawley, chatting with her fellow budding-artist friends about the day's lesson.
"I hope that dries fast because I want to add more baking soda to it," she said of her self-painted analogous color wheel, adding baking soda to it for a lesson on texture.
This was the scene at the North Plaza's own DS Arts Studio & Gallery on September 21, an arts studio founded, owned, and taught by long-time Brawley resident Debi Smerdon.
Smerdon, who has taught art for more than 25 years - including Summer Arts classes for the city of Brawley for more than a decade - teaches a variety of art lessons at her DS (Debi Smerdon) Arts Studio such as painting, watercolors, ceramics, pottery, mosaics, Chia-art, and nature-based art, to name a few.
While working for the city programs holding art classes during the usually barren Imperial Valley summers, Smerdon said she began holding private art classes in her home studio before the demand for her art classes outgrew her home studio.
"The beautiful thing about it was that everyone was always welcome in my home studio, but I have to wonder what my cul-de-sac used to look like at pickup and drop off time in my neighborhood with all the classes I had going," she said.
Later outgrowing her first city-planted site on South 6th Street, Smerdon said early October marks the five year anniversary of the current DS Arts Studio location at 180 C North Plaza Street.
Smerdon's current DS Arts Studio students range in age from 4 to 85, she said.
"It's really my greatest joy to work with people of all ages," Smerdon said. "It's interesting to see everybody's hands working, so different in age and diverse in where they came from and who they are, and everyone doing the same thing for the purpose of creating something and finding that creative outlet."
Smerdon said her personal slogan is "Created to Create," saying her faith in God as the Creator is something that she believes she should be imitating.
She said her love of art started at six years old when she first started painting and doing arts and crafts, with an artist uncle and her father a boat builder and wood artist.
"My mom used to always used to tell us as kids, 'Go find something to do. Go play outside,'" Smerdon said of growing up in Poway, California. "If we didn't really know what to do she had this fabric closet with things we could just cut up, and it made us think outside of the box."
Smerdon said that creativity is part of what she tries to emphasize in her arts lessons, even as she teaches children or first-timers the basics, teaching children the color wheel and some clay work.
"What I find – and I'm seeing it more and more – is kids don't have a foundation anymore in art basics," she said.
"Today these kids were using a little pallet knife and mixing baking soda with their analogous colors and making texture on a surface that would normally be smooth, and I thought it would be boring for them, but it was a hit," she said. "A lot of them wanted to do it with their fingers because it's a weird, tactile thing."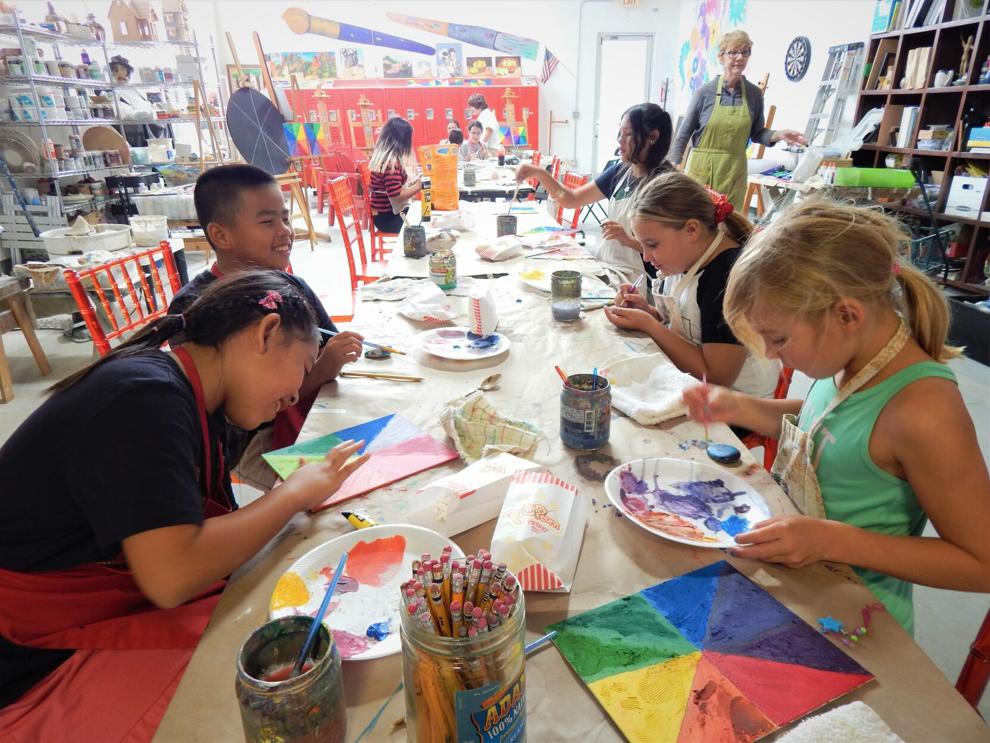 "Since I've been out here I feel like it's really representative of Brawley and the Imperial Valley," Smerdon said. "We have so many families and everyone wants their children to be enriched, and that's what I'm trying to do; help them do something that isn't a common thing in the Imperial Valley."
"I think (art) is sort of a confidence booster for people, like from your core," she said.
Haendiges, a first-year DS Arts student, agreed.
"It's just really fun doing art here. I like painting the best," the 8 year old who has been doing art for at least four years said.
In her second art lesson at DS Arts, 9 year old Maddie Chalupnik said she "loved doing the textures because it's really fun mixing and making different types of colors."
"I just finished doing a painted rock," she said. "I learned how to mix colors in and different types of things that I didn't know what they made."
Chalupnik said her brothers bringing home their art projects from attending DS Arts classes before her made her interested in trying DS Arts for herself.
"I like it because you can be creative and just be yourself and do art that is expressive," Chalupnik said.
Smerdon said many of her former art students have gone on after high school to pursue art or art therapy, with one becoming a social media influencer who sells her own art products.
Haendiges and Chalupnik may not be far behind.
"I think I want to become an artist when I'm a teenager," Haendiges said.
"I want to be an art teacher because I like how expressing it is, all the things that you can make, and helping kids do art," Chalupnik said. "She's a really good teacher, I really like her. She's probably the best art teacher I've seen in my life," she said of Smerdon.
In addition to her classes for children and adults, Smerdon said she is working on bringing artists to the Imperial Valley to give special workshops at her studio so "
"I want the kids to be able to see art in all things," Smerdon said. "We have so many families and everyone wants their children to be enriched, and that's what I'm trying to do; help them do something that isn't a common thing in the Imperial Valley."
"There's good things about a small place," she said.
DS Arts Studio's normal hours of operation are Monday through Thursday from 2:30 p.m. to 5:30 p.m. Morning classes in adult ceramics are held Tuesdays from 10 a.m. to noon, and adult painting is held Fridays from 11 a.m. to 12:30 p.m.
For more information about DS Arts Studio offerings, fees, and special events, visit dsartsbrawley.com. DS Arts Studio can also be reached by text at 760-554-2193 or by email at dsarts@live.com.