ANAHEIM — While Star Wars fans flocked to the Anaheim Convention Center to celebrate their favorite galaxy far, far away, Imperial Valley Film Commissioner Charla Teeters-Stewart helped bring them back to earth, namely to the deserts of 'Tatooine,' via Imperial Valley tourism.
Teeters-Stewart was part of the "Star Wars Tourism: Visiting the Galaxy Far, Far Away on Earth" discussion panel at the widely attended Star Wars Celebration event, which ran May 26 to May 29, in Anaheim. Teeters-Stewart was part of the panel on May 27 from 2 p.m. to 3 p.m., coincidentally coinciding to the day with the premier of new Star Wars show "Obi-Wan Kenobi" on the Disney+ streaming service.
The annual Star Wars Celebration convention is "the ultimate fan experience focused on the galaxy far, far away…," or the worlds within the Star Wars cinematic universe, according to a press release.
Fans of all ages from all around the world come together to celebrate Star Wars in their fandom to express their love for the cultural phenomenon through four days of "immersive exhibits and experiences, screenings, announcements, celebrity guests, exclusive merchandise, and information discussion panels," according to the release.
"It's kind of like Comic-Con (San Diego) but just for Star Wars," Teeters-Stewart said. "I like Star Wars but the people I'm about to go see (at this panel) really like Star Wars, so I'm excited about it," she said before the event.
Teeters-Stewart said Star Wars Celebration 2022 is the first time the convention comes back to in-person attendance since 2019. In 2019, in addition to over 255 exhibitors, more than 65,000 people attended the Star Wars Celebration, according to reedpop.com.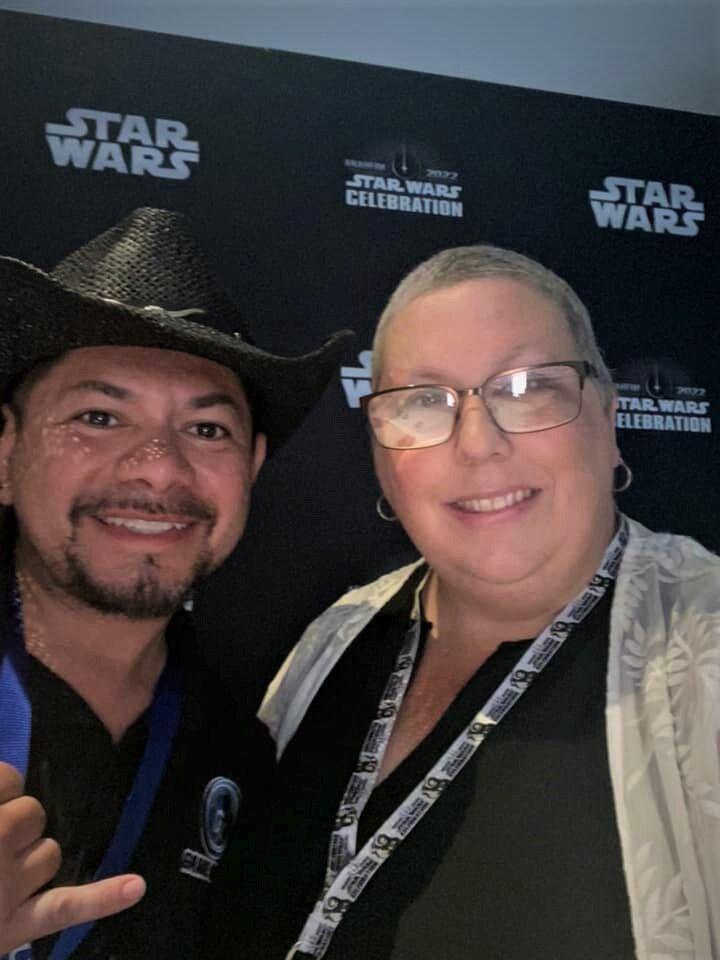 The event was not Teeters-Stewart's first 'Star Wars tourism' panel as she previously participated at the San Diego Comic-Con in 2019, yet it was her first time attending the annual Star Wars Celebration, she said.
"Film tourism is a very large industry because people love to go see where their favorite films and scenes were shot and favorite characters have walked, and that's especially true for Star Wars fans," Teeters-Stewart said.
"If you're a true Star Wars fan we can be classified as 'fanatic,'" she said, "so we want people to come (to Imperial County) and see where the Sarlacc pit monster was and where Obi-Wan will have walked."
"These places are easily accessible for people to come down the freeway and get off at Grays Well (Road) or Gecko Road," she said, "so it really gives them a way to get to those places."
Teeters-Stewart said to date the most iconic film spots in Imperial County regarding Star Wars were scenes from the 1983 film Star Wars: Episode VI - Return of the Jedi, the third installment of the original Star Wars trilogy.
She said original Star Wars creator and director George Lucas shot scenes with the Sarlacc monster in Buttercup Valley, which is off-road near the ranger station off of Grays Well Road in the Imperial Sand Dunes between Holtville and Yuma. Teeters-Stewart said, at that time, the set created for the Sarlacc pit "was the largest outdoor set ever constructed."
"We've done Star Wars Day out there a couple times with the (Bureau of Land Management) and we've actually found pieces of foam, which we assume are pieces of the set, that are still under the sand sometimes and peaks its head out," she said.
Teeters-Stewart said the new Obi-Wan series has been filmed, in part, off of Gecko Road in the dunes east of Brawley, but she was not at liberty to get into more detail as only two episodes of Obi-Wan have aired as of May 31.
Teeters-Stewart said there have been no actual scenes shot in Imperial County for fellow Star Wars-Disney+ series The Mandalorian and The Book of Boba Fett, but some computer generated scenes of the Valley were used as background visuals, she said.
Though there are some locally filmed desert scenes which are iconic to Star Wars, Teeters-Stewart said the local desert landscape "has been filmed by other media" and "will be featured in other products, for sure."
Some past filming which have used shots from Imperial County were the 1994 film Stargate starring Kurt Russell, Tank Girl (1995), In the Army Now (1994) with Pauly Shore in the south, while northern desert scenes were used in Jumanji: The Next Level (2019), Patriot Games (1992), and Men Who Stare at Goats (2009), among others.
"There's a large library of things, that doesn't include the commercials or music videos that have been shot out there," Teeters-Stewart said.
"It's a beautiful vista," she said. "You can't get a better backdrop for a production, so those things draw people here a lot: Being able to get a decent hotel, get catering, and not be too far from LA are very important."
Teeters-Stewart said though the local dunes were used as "more of a B-unit scene" for Obi-Wan Kenobi, "still, it was the size of a small feature film. We had that many people out there."
"With that coming out (May 27), I'm excited to see how we look on the screen," she said.
Teeters-Stewart said outside of Anaheim, local Star Wars fans also know Star Wars, saying she frequently sees interested local school children light up when talking about local places where Star Wars has filmed.
"The original may have came out in the '80s but they know Star Wars," Teeters-Stewart said, "so it's fun for them to find that connection with that set of films."
Star Wars fans can now watch the first two episodes of the new Disney+ series of their old Jedi master friend, Obi-Wan Kenobi, exclusively on Disney+.
For information on Star Wars Celebration 2023 in London, visit starwarscelebration.com online.