IMPERIAL VALLEY — "For 20 years now we've been having field trips, students of all ages K through 12, coming to the farm to see agriculture firsthand. And the premise is really teaching students about where their food comes from … and the importance of agriculture in our daily lives and how everything we do comes back to agriculture," said Farm Smart Community Education Specialist Stephanie Collins.
Farm Smart is part of the University of California Desert Research and Extension Center based in the county and will mark their 20th year in October as an educational program teaching kids about the agricultural conditions of the Imperial Valley. 
According to Farm Smart Program Manager Stacey Amparano, there is currently no official date for any 20th anniversary events as they are still in the process of determining what kind of groups they are allowed to facilitate in the ongoing pandemic. 
The program was first created in 2001 with a grant by the National Science Foundation (NSF) that was awarded to the University of California research university system and the El Centro Elementary School District. 
"It started with a partnership with the schools, which is very interesting because we still work closely with schools today," said Amparano. 
Originally Farm Smart started as an afterschool program in middle schools with science-based activities and project-oriented curriculum using agriculture. Amparano said it was very much intended to teach students about science using agriculture. 
"It was STEM before STEM was a commonly used term," said Amparano. 
Collins said once the grant had expired, there was so much demand by the community and the university system to keep the program going. 
"You're not going to find Farm Smart in any other county because we have so much community support," said Amparano. 
Amparano said as soon as the funding allotted from the original grant expired, the Imperial Irrigation District stepped in to become the primary source of funding for the Farm Smart program for almost 20 years now. 
"We have one-time donors … Imperial County Farm Bureau, the Farm Credit West in Imperial, and then also are plant and seed donations … we could not do this without our farming communities," said Amparano.
Collins said the Farm Smart program is unlike any other program in the University of California's various research centers. 
"There is no other Farm Smart, and we've had meetings about how we can replicate this someplace else, but it hasn't happened. It hasn't had that community support and because the research centers also occupy different climate zones and forestry so that content would be a little bit different … it just hasn't been replicated in the entire 20 years of its existence," said Collins. 
Collins praised Farm Smart's various programs where guests are shown how alfalfa is used to make ice cream, the history of how farming looked in the previous century, and even how to harvest vegetables in their field. Farm Smart also features an insect management instruction as well as food safety lessons.
"Each of these programs all include them being hands on, they get their hands dirty out in the field, we have tractors and pull wagons since we've been working here. We take them out in the field, and they get to harvest vegetables and my standard line after working here for 11 years is, 'It's amazing to see kids harvest carrots,'" said Collins.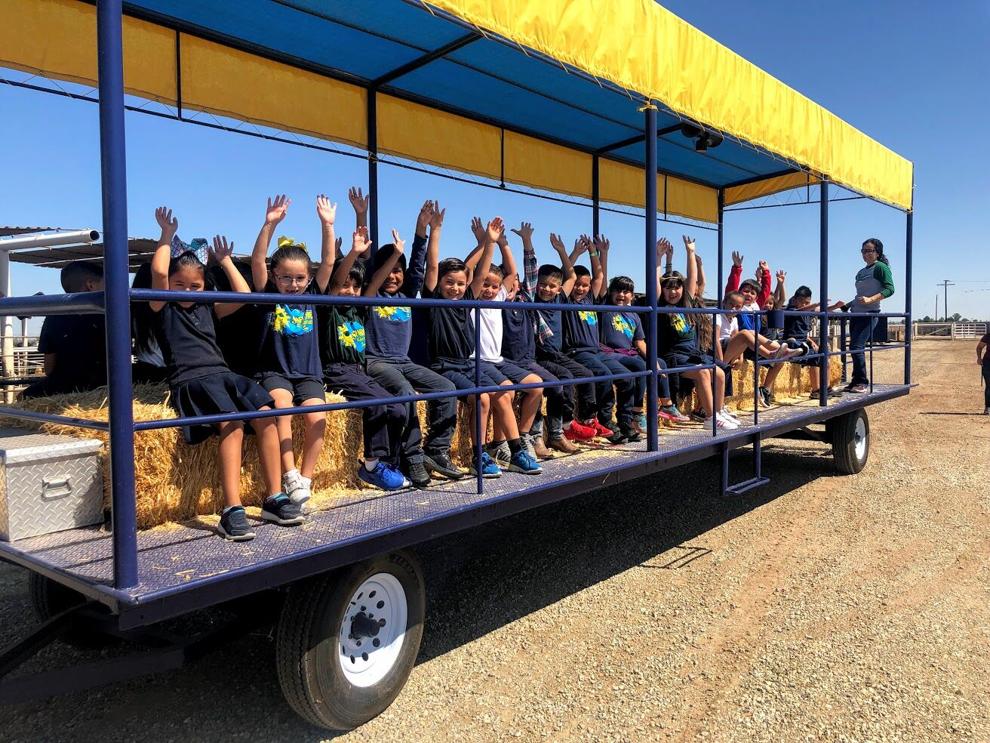 "I thought it was, 'If it's not fun, we don't do it,'" said Amparano of their tagline for the program. 
Collins said it was a deeply rewarding experience to hand off a vast array of knowledge to the next generation, especially since it heavily concerns the history of her home community. 
"When you see those kids out there and they're harvesting carrots and they say 'teacher, teacher, look what I've found,' it's just really an educational lightbulb moment when they have made that connection to that seed, the soil, the sun, the air, the water, and where everything comes from," said Collins. 
According to Collins, the price of admission to one of Farm Smart's various programs is $3 a person and like the programs themselves, they have hardly changed in the 20-year timespan. Collins said every time they attempt to change the curriculum, they are met with resistance because the programs they showcase are so popular.
"I feel so proud of this program, I know that I wasn't here from the beginning but just to be a part of something so special and for it to still be strong at 20 years, I feel so thankful and blessed just to be here," said Amparano. 
Collins said she also feels blessed to be a part of Farm Smart and that it has opened many doors for her professional career. 
"It's been amazing to see people, the repeat customers, I think that speaks for itself. You can go over the years and see teachers coming back over and over again because they value the program," said Collins.