BRAWLEY – Tucked away in an unassuming corner of the Brawley Senior Center lies a trove awaiting sprouting treasures to blossom, a garden which has come to fruition after about a decade in the making.
That is what coordinators and supporters have said about the recently rejuvenated Brawley Senior Citizens Community Garden.
The garden, located outdoors in the southwest corner of the Brawley Senior Center at 575 J Street in Brawley, has come together with the help of interested seniors, some green thumbs of the Imperial Valley Gardening Community Facebook group, and community supporters under the oversight of the Brawley Senior Center Coordinator, Amanda Benavides.
In June, the small 20- by- 30- foot lot was just dirt and rocks until a member of the Imperial Valley Gardening Community group contacted Benavides about restarting the community garden for seniors, she said.
Now the community garden has been growing – both literally and figuratively – thanks to a rejuvenation by a newer group of interested seniors backed by community support.
"(Local seniors started) this a few years back but, because it was solely (running) on volunteer work, a lot of the elders that were doing it got tired ... and it just kind of died down," she said.
"(Now) the community has really, really got behind us and started coming in with transplants and donations," Benavides said, "and so I was like, 'Yeah, go for it.'"
"We're trying to bring (activities) back to them to get some sense of normalcy again because a lot of them were stuck at home," she said, "so this is something that we can do to maybe pull them back in so that they can do something outside, and then maybe later they can feel comfortable coming back inside to do (senior center activities) with us."
Benavides said though Brawley Parks and Recreation does allow for a certain amount of a budget, the budget for the Senior Center is not very large, so the Senior Citizens Community Garden relies heavily on donations in addition to the volunteer work of the 10-12 regulars who tend the garden.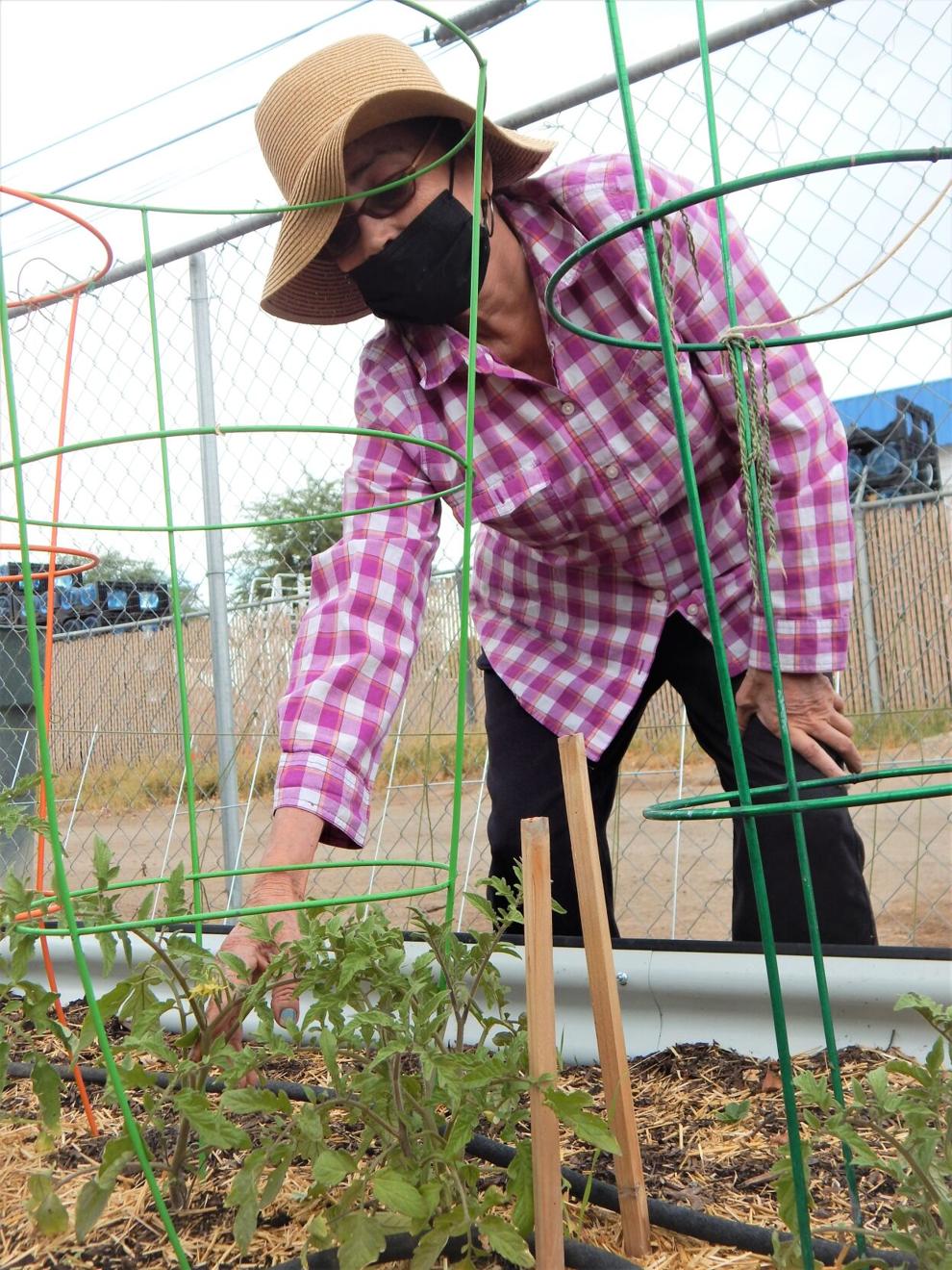 Benavides said about six different organizations (businesses, budding businesses, and individuals) have donated a mix of metal planters, reclaimed wood for wooden planters, a watering timer for unmanned weekend watering, hay bales, and other gardening products.
Benavides said the garden serves a dual purpose in focusing on healthy nutrition but also "bringing life back to the center" after the COVID-19 pandemic has made seniors hesitant to partake in indoor communal activities.
"We have the original sign; it was touched up and made beautiful again," said John Hernandez, a Brawley senior and Area Agency on Aging council member.
"So now we're seeing with a change in the weather, and I guess in attitudes of people too in wanting to get out and do something, it's really taken shape," he said.
"Being here at the Senior Center, I think it's important because the seniors that walk in and out (here) are able to enjoy it and ask questions as they congregate here," he said.
Brawley senior and gardening enthusiast, Maria Bandiera, said it also gives the seniors a chance to learn about gardening, gain some much-needed socialization, and find a sense of accomplishment as the small crops reach harvest time in the future.
"They can come and see how we put everything here and when this is over, we plant something else according to the season," Bandiera said. "I always try to teach them about what we are planting."
Bandiera said the Senior Community Garden has cauliflower, yams, papayas, herbs, radish, cilantro, loofah, tomatoes, tall beans, green onions, head lettuce, nasturtiums, and maraculla (a type of passion fruit) planted so far, with plans to plant different crops in the future as the seasons allow.
"Hopefully in the future it'll bare vegetables to share," Hernandez said. "They're anxiously awaiting to see what comes from it."
In the future, Benavides said she hopes to get donations to insert a sidewalk path for seniors with mobility problems to enjoy walking through the garden. She'd like to put in a Zen Garden area for them to enjoy as well as hold outdoor activities through the Senior Center in the fall and winter as weather permits.
"I do what I love, and I love what I do," Bandiera said. "I love it and I know somebody else might appreciate and benefit from it."
"It makes me very excited to see the results," she said.
For information on operational hours or how to donate to the Brawley Senior Citizens Community Garden, contact Senior Center Coordinator Amanda Benavides during regular business hours by telephone at 760-344-3154 or by email at amanda.benavides@brawley-ca.gov.